Free teacher registration
Registering with Teacherhorizons will help you secure your dream job at your ideal school.
Registration is currently FREE for teachers and takes only 60 seconds. Register now and be the first to know when we launch our full teacher profile pages soon.
Click here to register now and be the first to know when we launch our full teacher profiles pages soon
OPPORTUNITIES FOR TEACHERS
Only apply once.
Once you have set up your teacher profile you can
Share your experiences, achievements and interests with schools.
Remove the time consuming stress of endless CVs and covering letters.
Upload documents and videos to your profile.
Update your profile as your career develops.
Use it to apply to jobs for the rest of your international teaching life.
Receive emails about positions which match your 'ideal job' as soon as their posted.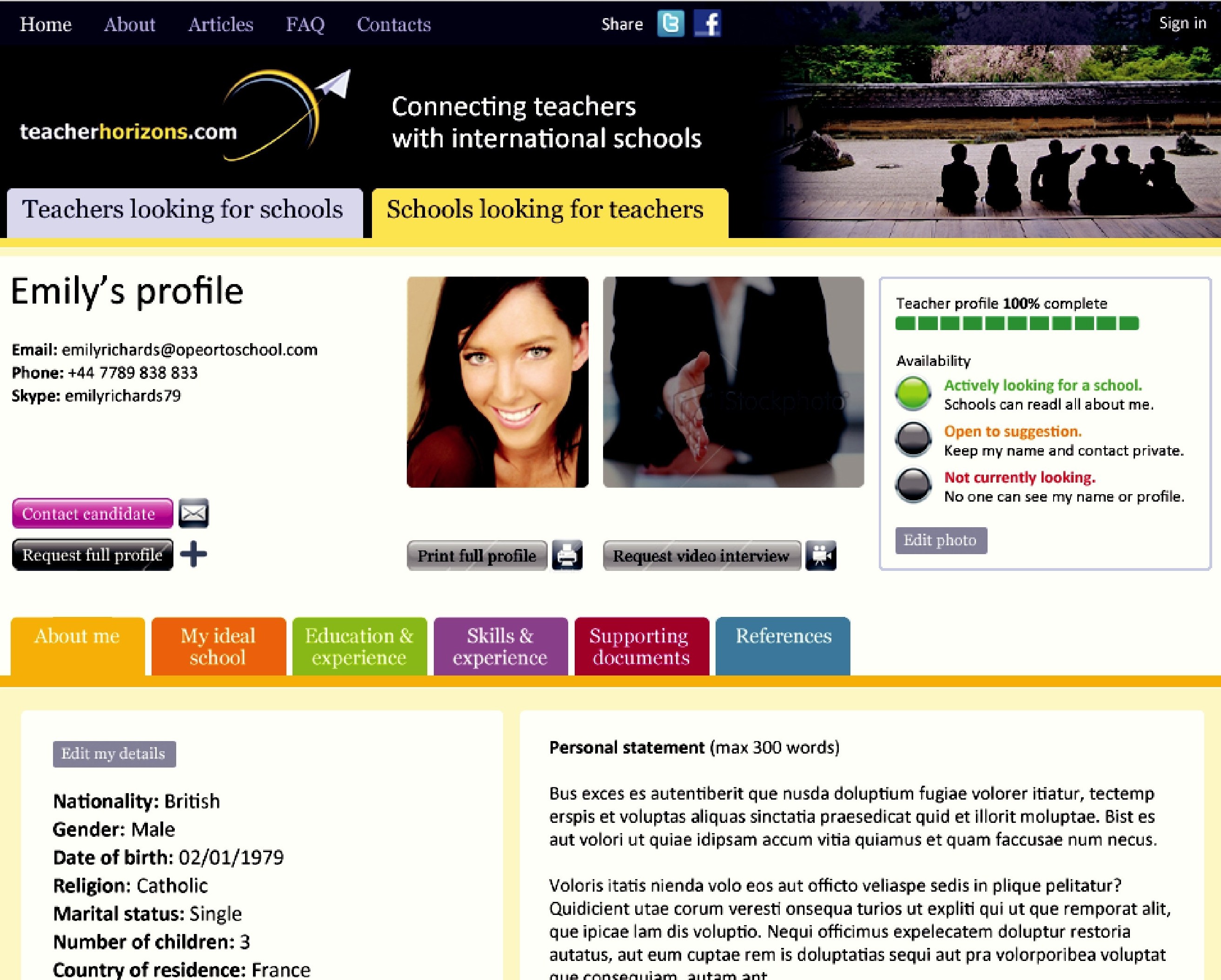 Click here to view an example profile page
Research Schools
The problem
It's hard to find reliable up-to-date information about international schools.
It can be hard to make the right decision about where to apply.
The solution
Teacherhorizons provides all the information you need about teaching overseas in one place.
Search across continents.
Compare details about the packages schools offer.
Save lists of 'Favourite' schools on your profile page.
Use the 'Jobs' tab on school profiles to see if there's a position for you
Request emails so that you're the first to know when the position you want becomes vacant.
Allow schools to research you
Schools will use Teacherhorizons to find the best teachers. If you're a great teacher and want to be noticed, make sure you share all your attributes, skills and experience on your profile page. The more up-to-date your information, the more likelihood there is you will get your dream job.
Use our simple traffic light system to indicate if you're available.
We are still developing the teacher's side of Teacherhorizons which we will launch soon. Thanks for all your enthusiasm!
We love receiving feedback as we're always looking to improve the site so please email your comments info@teacherhorizons.com and join our Facebook page for news and updates.
Thanks!