Our Services for International Schools
We are a team of former teachers and Heads committed to providing quality candidates. We have two services:
1. Premium Placement
£1,395 (or $2,195) placement fee
You tell us who you need and we will find the candidates
2. Online Matchmaker
£495 (or $795) placement fee
You advertise, select, interview and place teachers online
Advertise jobs (free)
Compare candidate profiles (free)
Access video interviews, references and supporting docs (free)
UNREGISTERED
MATCHMAKER
PREMIUM

ADVERTISING JOBS

N/A

FREE

£1,395

CANDIDATE PLACEMENT FEE

N/A

£495

School profile page

Appear on school search

Browse other schools

Job advertising on your profile page

Appear on search jobs

Job advert on teachers homepage

View basic teacher profiles

View full teacher profiles

Teacher references

Basic Candidate Screening

Contact teachers

Headhunt candidates

Request video interview

View candidate video interviews * when available

Receive email updates of suitable candidates

Comprehensive candidate screening
Supporting Members of:

bb

Contact us:
Email: info @teacherhorizons.com
Phone: +44 (0) 2081339310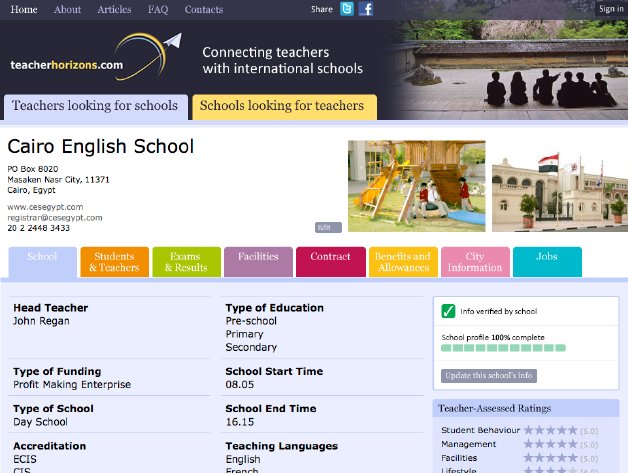 You tell us who you need, and we will find the candidates (£1,395 or $2,195 per placement)
Our Premium Services include:
Full candidate screening

Targetted advertising

Recruitment guidance

Reference checks

Tailored packages
For further details, email info@ teacherhorizons.com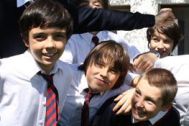 Exemplar teacher profiles
Subject: Biology teacher
Nationality: United States
Expected salary: US $40,000
Available from: September 2011
"High calibre teachers are THE biggest factor in delivering a high quality education. The services Teacherhorizons offer will ensure that I am able to continue attracting inspirational teachers."
Scott Webber, Headteacher, Braeburn School, Kenya
"Recruitment and retention of high quality teachers is our biggest challenge and every year the competition for teachers becomes more intense. The services offered by Teacherhorizons will ensure we are able to recruit the right candidates"Recruitment and retention of high quality teachers is our biggest challenge and every year the competition for teachers becomes more intense. The services offered by Teacherhorizons will ensure we are able to recruit the right candidates
Simon Head, Principal Al Sahwa schools, Oman
"Having worked closely with all of the Teacherhorizons team, I have no doubt that they have the right values and vision to make a significant and positive impact on our sector"
David Butcher, Headmaster, International School of the Hague, Netherlands