Applying to International School Jobs with Teacherhorizons
Making the jump into Teaching Abroad or even changing jobs once working in International Schools is a big ordeal. We hope the articles in the Teaching Abroad section, school profile pages and the following quizzes help you to make this decision.
You will find the following user video guide on applying for Jobs helpful - remember, you can only apply to jobs once you have a 70% completed profile!
Applying for international school jobs via Teacherhorizons significantly improves your chances of securing that dream position for the following reasons:
Increased detail of information about you: the profile has been designed to give heads exactly the information they need in the order they want it. Compared to the traditional model – Teacherhorizons provides schools with all references, a 10 minute video interview, a photo, supporting documentation and a Teacherhorizons CV. This greatly reduces the risk to them by taking someone on with limited knowledge of the candidate.
Increased exposure: heads can get inundated with boring CVs – schools are much more likely to take note of you in this fresh and modern format.
Easily comparable: Teacherhorizons has been designed to ensure that the best candidates get the best jobs – Teacherhorizons CVs are easily comparable and allow heads to spot talent quickly.
Importance of values: The Teaching Philosophy Statement stresses the importance of values. Schools will want to know this and see if it fits in with their ethos and vision for the future.
Control over the application process: Teacherhorizons gives you control over the process by setting your security at the right level for you.
Saves time: by matching suitable schools and candidates, Teacherhorizons not only provides one application process for all schools but also makes you less likely to apply to schools that wouldn't be interested in your profile.
Perfecting your profile – the steps to securing your international school job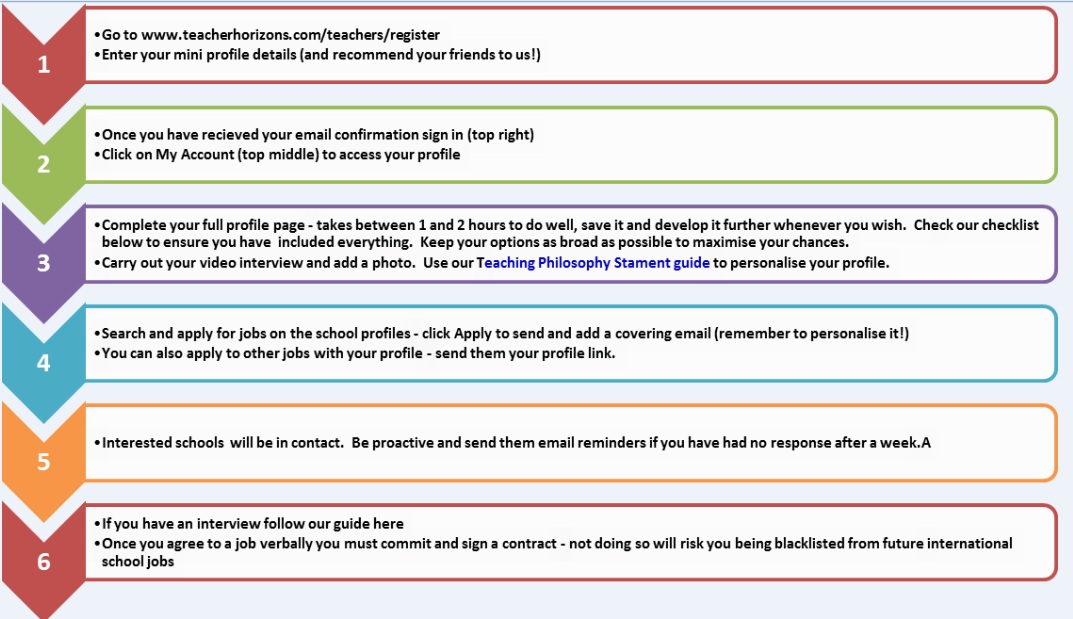 Checklist for your Teacher Profiles
Does your profile have the following?
· A Teaching Philosophy Statement written using our Teaching Philosophy Statement guide.
· A professional and smiling photo.
· A video interview made using our Video Interview guide.
· The details of your education and any courses you have attended.
· Your professional experience including your main responsibilities and achievements.
· Your school preferences.
· All of your supporting documentation.
· Three completed references submitted by a supervisor – it is your responsibility to chase these up
Provided you complete the information above, you have put yourself in the best possible position to secure an international school job. We wish you the very best of luck and get in contact should you have any queries or need any advice.