Young people are not pursuing careers in STEM. According to Pew Research, only 13% of the workforce (in the U.S) were employed in STEM jobs. The UK also reports a STEM skills shortage, stating: "the shortage of STEM skills in the UK is a reflection of a much wider problem facing developed nations: enticing students to enter STEM fields." This is in contrast to documented urgency for STEM careers by the workforce, becoming even more apparent in light of the global pandemic. According to the UK STEM website, "STEM Skills Indicator research shows that 73% of businesses have found it more difficult to hire staff". The question is how to build interest in STEM at school to match the growing demand by industry?
What is the role of international schools in building interest in STEM? Are international Schools in the position to fulfil the growing need for future scientific pioneers and tech entrepreneurs? Let's look to the future of STEM and STEAM in international schools.
STEM vs STEAM.
STEM looks at how laws of physics, engineering or mechanics (for example) shape our everyday lives. STEAM refers to science, technology, engineering, art & maths. The art part refers to art subjects including humanities and design. STEAM is becoming more prominently sought after as industry confirms the need for more creative problem-solving. Moving beyond "I'm good at maths" to the intersection of different subjects informing each other can allow more innovative solutions to global problems. According to an article by The Conversation, the main difference between STEM and STEAM is "STEM explicitly focuses on scientific concepts. STEAM investigates the same concepts, but does this through inquiry and problem-based learning methods used in the creative process." With that being said, STEAM is likely to lead the way in the future but there is at present little data available on STEAM engagement by students compared to STEM.
Why aren't students interested in STEM?
"Half of Americans think young people don't pursue STEM because it is too hard" the headline for a Pew Research survey, reads. Given how crucial it seems to have STEM as an integral focus within education, why are the rates of pursuing STEM beyond school so low? Pew Research has interesting data around low interest in stem learning. Despite the fact that graduating with a STEM bachelor's degree pays better, only a third of workers (33%) opt for an undergraduate degree in a STEM field. Enabling STEM and STEAM to be more desirable to more students is therefore prudent.
Inequality diminishes interest in pursuing a STEM related career.
Access and the ability to dedicate time to STEM also impacts whether students pursue a career in it. PEW also surveyed those students who showed interest in STEM but didn't pursue it beyond school. One of the main reasons were cost and time barriers (27%) "such as high expenses required for education or a lack of access to resources and opportunities". While the same might not be said for private international schools which are often well resourced, it can point to the responsibility they have in raising STEM interest and assisting in a global increase of students pursuing STEM careers.
Access remains a barrier to STEM learning in other ways, too. The percentage of women in STEM is at 24%. According to the World Bank, there's still an issue of underrepresentation of women in STEM-related careers despite doing the same or better than their male counterparts in school. According to an article in The Brink, "an academic culture in STEM fields is sometimes not welcoming or attuned to members of groups underrepresented in STEM fields- including women and minorities, who today constitute about 70% of college students but earn only 45% of STEM degrees." STEM remains a challenging space for minority identities and the LGBTQ+ community described as unwelcoming and unrepresentative.
STEM challenges in the time of a pandemic.
On top of the ongoing challenges, along comes a global pandemic. Traditional settings for STEM subjects, like labs and field trips are no longer. Figuring out how to teach and learn STEM remotely is bringing up challenges. Further issues of access arise as some students won't have environments conducive to learning STEM/ STEAM at home. In addition, there is a great urgency for STEM-related subjects to build future leaders capable of managing whatever new global disaster might come our way. As globalization and a knowledge based economy continues to grow, students need capabilities and skills that will allow them to succeed in a technologically driven society. As the importance becomes more critical, educators and policy makers need to find ways to promote STEM and STEAM learning.
International schools are in a unique position to drive the future of STEM education.

From the data above it appears STEM remains divisive and inaccessible to many. International schools are well resourced, have excellent facilities, are globally connected and hire top-quality teachers. They are in a position to advocate for STEM education across the globe. International Schools' global approach may be beneficial for increasing interest in STEM around the world. As more government's around the world start to recognise the need for STEM in the workforce of tomorrow, International schools are getting students ready.
International schools are dedicating entire programmes of focus on STEM
Much like the recent national STEM day in the US on the 8th November, International schools have taken it upon themselves to dedicate specific allocated time and awareness to STEM. Take for example, our partner schools NEXUS International School in Malaysia who ran their own STEM week. NEXUS International School in Malaysia's STEM week provided primary & secondary students opportunities to challenge themselves though fun activities. They did exercises such as building bridges, coding club, LED screen patternings. In primary, the Boat Float Challenge was a huge success!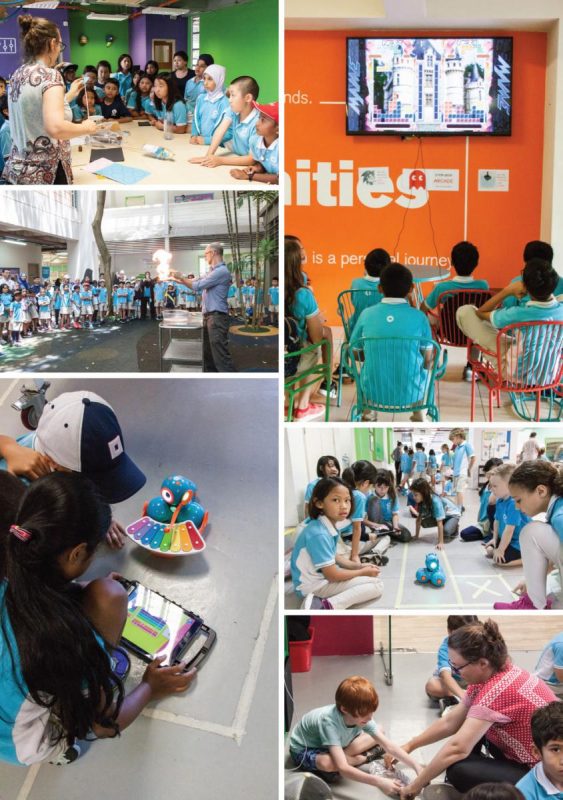 Some international schools, Take STEAM British International Schools, in Sweden, have developed the school around an entire STEAM focus. International schools are innovative spaces able to excite students about a career in STEM, often with great facilities to match. Nord Anglia Schools, a partner school group of ours, has an advanced STEAM curriculum focused on innovative ways to learn STEAM subjects, including with MIT. Their film below shows more about their collaboration with MIT:
Seisen international school in Tokyo, Japan is also active in their STEM activities. According to Relocate Magazine, the all girls Catholic school helps students pursue science through real-world activities. They host a Firebird initiative, a team of competitive young scientists that compete in global competitions.
How can international schools build STEM ready students?
By engaging students at a young age, the likelihood of interest in pursuing careers in STEM increases. Making it engaging, fun and accessible seems to really pay off. Supporting teachers to build CPD that supports STEM will also help and continue to actively reduce the divides, like the gender gap.
As times are changing, it is crucial that STEM and STEAM fits with blended and remote learning. The Coronavirus has shifted how STEM is accessed remotely so this is something to bear in mind when creating blended learning approaches. How can we make up for the lack of lab and together time through a blend of asynchronous and synchronous methods? There's so much to think about in regards to the future of STEM just as there is so much potential for STEM and STEAM in international schools.
Like the innovative programmes our partner schools are running? Want to teach a STEM curated curriculum? Sign up to Teacher Horizons today to find STEM-related jobs!
Visit our Professional Learning Hub to connect and explore opportunities for professional growth, both as an individual and as a school.