Tax free salary, healthy work-life balance, stunning mosques, excellent food markets and beautiful nature – see why international teacher Alan chose to live and work in Brunei. We've asked Alan a few questions about how his old life in Dublin compares to his latest teaching choice. "If you're looking for a relaxed location where you can make decent money and travel easily then this is for you."

Where are you teaching and what's your school like? What made you choose that location/school?
I'm currently teaching in Bandar Seri Begawan in Brunei. I teach in a local school in one of the water villages. The school has relatively modern buildings and the students are well behaved and respectful. Technology is almost non-existent, which has to be one of the aspects I've needed to adapt to as I've come from the UK where using technology is one the big things right now. I chose Brunei because of the work-life balance. In the UK I was constantly tired and felt like I was always playing catch-up with my work, whereas now I'm never home later than 2:30pm and often home by 1pm. The weather and the tax-free salary are other benefits and the central location in SE Asia along with the Air Asia cheap flights are a real benefit allowing lots of travel to interesting places
How did you get your job? What was the process like?
I signed up with Teacher Horizons and had a chat with them about what I was looking for. They told me to browse their jobs and let them know which ones interested me. After they put me forward for Brunei, I did an interview over Skype, sent all my documents for immigration clearance and then waited for a short while to be approved by the government. Apart from a little patience needed, the whole process was pretty painless.
What is the city like? Is there an active expat scene? What do you do in your free time?
Bandar Seri Begawan has a small centre dominated by a beautiful mosque and excellent food markets. It's peaceful to walk around and has nice cafes and restaurants. The suburbs have lots going on and particular suburbs will often be much busier than the centre because they are better set up for shopping and eating out.There's lots to do in your free time here. Usually we go to the national parks, some of which are beautiful rainforest that has been preserved. We also go to the beaches and some of them are excellent, though a few have the classic SE Asia issue of litter. We've just started SCUBA diving and learning to surf and the warm sea is a fantastic change from what we're used to. There are lots of clubs for sports, photography, book clubs, cheap restaurants, We also do some distance-learning study as we have the time available now. There are lots of expats in Brunei due to the country's desire to improve its English and due to the presence of oil. It's not difficult to meet people and they are always great for tips on what to do or where to go.
Which tourist sites or must-visit places are nearby?
Our favourite places to visit have been the parks. Tasek Lama, a park near the city is great for hiking and nature lovers. You're almost guaranteed to see monkeys and if you're lucky you might see other animals such as wild pigs, monitor lizards and hornbills. The Rainforest district Temburong is incredible and probably one of the most pristine natural environments left in the world, certainly on Borneo. The two main mosques are eternally impressive and well worth a visit. The skill that went into building them is breathtaking.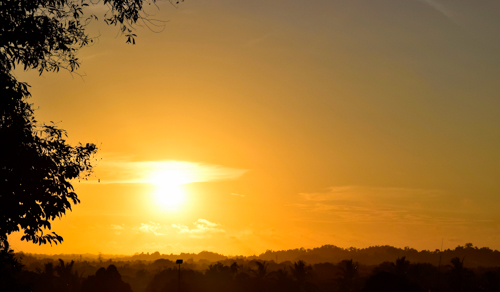 What is the climate like? Is there any extreme weather? If so, how do you deal with it?
Local Bruneians say Brunei has four seasons, Summer 1, Summer 2 , Summer 3 & Summer 4. The temperature is always between 26 and 33 degrees during the day and about 24 at night. It's vital to drink lots of water all the time as the humidity also drains you. Air-con is everywhere so you can usually avoid the heat if you wish.
What is the food like? Is international food available? Have you tried any unusual local dishes?
Food is the main interest of many Bruneians. There are more restaurants than you would imagine there could be in a country so small. The local food is delicious and cheap, though sometimes odd when you're offered fermented rice or Brunei's national dish ambuyat, which is eaten without chewing. Due to the large number of expats you can get any kind of food you wish, even Burger King or Pizza Hut are available. Mostly the restaurants are excellent quality because Bruneians take their food seriously and upon arrival, foodie blogs will be among the first recommendations from the locals.
How is the culture different from your home culture? Have you experienced any culture shock?
There are differences but none that are too extreme. The one most people notice, but are well aware of before they arrive is that alcohol is illegal. Short drives over the border to Malaysia are common and expats are allowed to bring some back in for personal consumption. The religion is always at the forefront of people's worries but actually even the much feared Shariah law does not seem to impact life very much and is certainly not imposed on non-Muslim expats. The level of English spoken in the country makes it a relatively easy transition. One thing is that you need to adopt a laid back attitude to things getting done. Always think about your own circle-of-control.
What's the cost of living like? Are you able to save money?
Most things are quite cheap compared with the UK. Only food and clothing have been surprisingly expensive. Our shopping costs almost as much as the UK and clothes can be more expensive. However due to the tax-free salary and accommodation provided for us, we are able to live well on about half my salary, the other half going towards savings and travel.
What's the best thing about living and teaching in your chosen city? What have been your highlights so far?
The work-life balance is definitely the best part. It's so refreshing to feel as though you have nearly a whole day ahead of you when you finish work. I also have a lighter timetable for teaching, which means I can easily do my planning and marking in school and so rarely do anything at home. Exploring different restaurants and the weather allowing a much more outdoor lifestyle have been great highlights too. Also seeing animals like monkeys and lizards regularly is a real novelty that I don't see fading quickly.
Are there any drawbacks? What kind of person would not be suited to this location?
The only drawbacks people seem to find here are that it's quiet. The lack of alcohol means there is not a club-scene and nightlife is generally up to yourself which means house-parties and eating out are the most common forms of socialising. People often drive to the border for a night out as well so there are always options. Personally I've found the lack of online-shopping an adjustment as I bought everything online in the UK and now I have to learn what shops sell what again, but it's a small inconvenience and helps me to explore the place a bit more.
What advice would you give to someone who was thinking of coming to live and work in your current location?
Bring Sunblock! Other than that, if you're looking for a relaxed location where you can make decent money and travel easily then this is for you. If shopping and partying are your main interests, this is probably not the place for you.
Are you ready for change this year? The Teacher Horizons team will happily guide you to select the best suited destinations and schools for your qualifications and requirements. Get in touch with us, sign up and embark on a new exciting journey of teaching abroad.

Alan is an MFL/English teacher from Dublin. Having taught in the UK for 5 years, he decided to make the move into International teaching.