Did you know that Teacher Horizons donates 10% of all our profits to support education projects that offer opportunities to less fortunate students in developing countries? This year, we have selected Tea Leaf Vision (TLV) as our charity due to the impact they are having on young people in the tea plantation region of Sri Lanka. Read more about the charity in this blog and read on to meet some of the individuals whose lives we have changed so far.
Maheshwaran's story
Hi, I'm Maheshwaran from North Cove Division, Bogawantalawa. I studied for my O levels at Lionarm T.M.V where I got good results. I then studied for my A levels at St Mary's Central College and I chose the Commerce Stream (business, economics and accounting.) This new school, new friends and a new atmosphere changed me. During these two years I just spent time with my friends, I didn't even touch a book. I didn't stay at home, I didn't study and I didn't listen to my parents. So my A level results were very poor. After that I thought that I was useless.
But one day I got to know about an institute that was giving free English education and a chance to develop professional skills. In 2016 I joined as a Main Diploma student at Tea Leaf Vision, Maskeliya. There I studied very well and as a result I was awarded a Distinction pass. But my journey with that place didn't end there; I am now an Advanced Diploma student!
When I look back at the year I spent at Tea Leaf Vision, I don't regret even a single part. As a matter of fact I believe it was the most important year of my life.
There are numerous differences between my school years and that year at Tea Leaf Vision. I grew up in a rural background so I was not used to interacting with strangers. I had a very limited circle of friends and through that a very narrow world view and set of beliefs. I was comfortable with my small world and could not see it changing. Yet all of this changed the day I stepped into Tea Leaf Vision. I was amazed by my new surroundings; I met and interacted with people from across the Upcountry area. Many different beliefs, experiences and values were there but I made friendships with all of these people. We were encouraged to share our different stories and experiences and henceforth by listening we created new world views.
After a year at Tea Leaf Vision I was ready to embrace the world. If I had to work abroad or with different people I felt prepared, I was not scared. Tea Leaf Vision also prepared me well for employment; when I started there I had no idea what field I should pursue. Yet as I progressed through my diploma I realised that I wished to pursue a career in English and I am now studying to become a teacher. My dream is to become a teacher at TLV and inspire a love of English in others.
More than this I also believe that Tea Leaf Vision has made my life happier than before. I am now proud of myself and my achievements.  Tea Leaf Vision had given me the necessary tools to be a happy human being and contribute to the society and the world that I live in.
Lakmi's story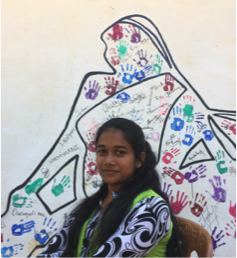 Even though humans are different to each other, problems face all of us. I am a girl who has a lot of problems. Before I came to Tea Leaf Vision (TLV) my problems covered me, trapped me and I felt as though I couldn't go anywhere. I was always frustrated about my life and sometimes I asked "Why am I here?" I was stressed and depressed all the time and I hated myself for being a girl. At one point I felt as though there was no way out and I considered ending my life.
When I came to TLV I felt different, I began to feel calmer and my problems began to lift from where they were crushing me. I still came to the class with many problems in my mind but I soon forgot them as I found myself in the care of TLV. It was as though she was my mother, giving her hands to help me overcome my difficulties. As a Main Diploma student my life was always filled with happiness and joy. Before I was a girl who was lost and alone on a road called "life". Yet TLV was like my accommodation and my guide on that road, and I am so grateful to TLV for changing my path.
My aim is to find a job as soon as I can so that I can support and provide for my family. I am the next responsible person after my father and since my childhood I have seen how many difficulties he has faced to look after us. Now he is getting old and I can't spend his money on unimportant things. This is why I chose to come to TLV for the Advanced Diploma and the opportunities, experiences and skills this course will provide me.
Thanks to TLV I am more responsible than last year and I am ready to accept new challenges. I am familiar with my barriers and will face them whether I will win or not.I am ready to work with new friends and the sharing, arguing, caring and fighting that comes with relationships.
These days I feel like a lotus flower, which is blooming out of the mud. I am a girl who is rising through her problems and barriers and now I will be a shining star which lights up the world. Like my shadow, TLV is always with me, supporting me and standing with me.
"I will win, not immediately but definitely!"
How to find out more
Twitter – https://twitter.com/tealeaftrust1
Website – https://www.tealeaftrust.com/
Facebook – https://www.facebook.com/TeaLeafTrust
Instagram – https://www.instagram.com/tealeaftrust/
Video – https://vimeo.com/36237230
By using Teacher Horizons, you are helping us support important projects like TLV and providing opportunities for thousands of disadvantaged children in developing countries like Sri Lanka. Over the year ahead, we will share photos and stories of successes both on our Facebook page and our blog (subscribe down the right-hand side of this page). Want to get involved? sign up here and speak to one of our Recruitment Advisers.

Teacher Horizons Blog Manager and Recruitment Adviser.