Continued professional development is a crucial issue for teachers who are new to international education, in particular the young and/or ambitious teacher.  Many candidates have the impression that these would be limited, if they occur at all.  The reality is that there are abundant opportunities.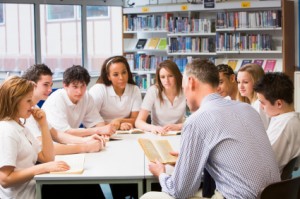 Many international schools are new or rapidly developing and this situation creates Professional Development (PD) in itself as new systems, curriculums and routines have to be created or developed.  The experience is professionally rich and shared ideas abound.
Another aspect of developing schools and the rapid turn-over of staff is the more likely opportunity than usual for obtaining posts of responsibility.
The best schools are accredited or going through the process of accreditation.  This forces all staff to review and self-appraise all aspects of school life.
Many schools organise their own in-house PD, covering topics such as the teaching of English to students whose curriculum is conducted in English though this is not their first language.
The Board of many international schools recognise that teacher's PD is not only intrinsically valuable to the school, but also realise that it is an important issue for the teachers.  Thus they invest a significant amount of the whole school's budget for teachers' PD.  A school that offers the International Baccalaureate is duty bound to provide its teachers with the opportunity to attend workshops.  Some schools form consortiums to provide PD in their area, because of the cost of sending an individual on a course that takes place overseas.  One other avenue is the growing number of Online PD opportunities afforded to the international teachers.
Sign up to Teacher Horizons now and get personalised support to guide you through the next stage of your international teaching career.
Written by John Regan, CEO of Teacher Horizons. Having spent the first 30 years of his teaching and head mastering career in the UK both in the state sector and independent sector, John has spent 10 years as Headmaster of prestigious schools in Portugal and Egypt.  He has been recruiting for almost 30 years. 

former International School Head and CEO of Teacher Horizons