Daryl Sims spent three years teaching in inner city London before making the leap to teach abroad. He arrived at The English Collage, Dubai, UAE in September and documents his experience to date for us below.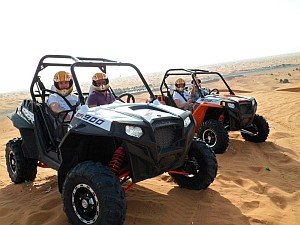 1. Why did you choose to teach abroad?
I choose to teach abroad as I wanted to do something a bit different, one may even say "a bit wild". I hadn't left Europe before in my life and I felt at the age of 25 it was the right time to broaden my horizons. Teaching in the UK was great and I liked the school I was working at, but I felt if I didn't do it now, I would become tied into the school and end up with a mortgage.
2. How did you go about finding a job?
I used the TES. It seemed simple to use, I searched to find a job in a country I was interested in. I had done a bit of research online about where I might like to go. I was required to send my CV and the head teacher came to London to interview me in a hotel bar. I did not have to teach, just a long conversation/interview.
3. What have you enjoyed teaching in an international school?
So far it has been a lot of fun, it is very different from what I experienced in London, but from what I hear this greatly differs from school to school and country to country. The students are very relaxed and friendly and this allows the staff and senior leaders to also have a laid back and happy approach to the day. In a UK school, an hour after the final bell the car park is still full, here, the school is a ghost town.
4. What have been the main drawbacks of teaching and living abroad?
Being away from family and friends of course. With regards to teaching I guess I am wary that the ease of teaching here may make it harder to readjust to a faster pace, higher geared and more challenging school if I chose to go back, such as those I had experienced in the UK.
5. In what ways, if any, have you developed as a teacher at your current school?
As behaviour is not an issue and without the stressed senior leader's eye looking through the window of the classroom, I take a lot more risks in the classroom. So, with things like role play, moving around the school to do lessons elsewhere etc. This allows a lot more innovation into the lesson. I've also been able to learn from teachers with very different teaching styles
6. Was it the right decision?  Why?
Yes but this is probably based more on personal reasons than on any professional reasons. So far it has been a lot of fun to live here, I've met a lot of good people and have had a couple of enjoyable stress free terms of teaching. I would thoroughly recommend teaching abroad to anyone looking for something different.
Thanks for sharing Daryl! We hope for this to be the first of several similar teacher insights and are looking for anyone else who is keen to share their experiences of teaching internationally just email is at info@teacherhorizons.com.