In this week's blog, we find out some detailed inside information from Christoforos Kanakis, who has been teaching at Maple Leaf Foreign Nationals School in Dalian, China. His school is part of the Maple Leaf Educational Systems school group which has schools in 15 different cities in China.
Where are you teaching and what's your school like? What made you choose that location/school?
I teach at Dalian Maple Leaf Foreign Nationals School in China, Kaifaqu campus. The campus is located outside the Kaifaqu city center, which provides a student friendly and relaxed school environment. The building is new and modern, with all necessary facilities for sports, music, art, a special pre-school and kindergarten playground, as well as an on-site cafeteria for both students and teachers, featuring a healthy balanced menu.
The campus was completely new when I started, so all new teachers like me were sent there rather than choosing the location. A real plus though is that Maple Leaf School's group is constantly expanding in and outside of China, so teachers like me now have great internal opportunities and can relocate to other places easily.
How did you get your job? What was the process like?
The way I got this job was kind of unexpected; as soon as I saw the Teacherhorizons advert I was very interested. Teacherhorizons prepared me for a slightly daunting application procedure. This is because the Maple Leaf Schools are supervised and inspected by the British Columbia Ministry of Education of Canada, which has a strict certification policy. I was already qualified to teach in England, Holland and Greece, and I did not want to spend more time and energy becoming certified to teach for BC Canadian schools too. For that reason, my first reaction was to inform Teacherhorizons that I was not willing to go on with my application.
However, a few weeks later, Teacherhorizons contacted me again to inform me that the school was very interested in my profile, and encouraged me to go on with my application. I am very happy that I did! I finally had to go through the long (and painful considering all the extra paperwork) certification process, but at the end it was really worth it. Now I am very proud that I am a BC certified teacher. It is a lifetime investment not only for the position that I currently hold, but for all other teaching opportunities that Maple Leaf Schools can offer.
Another big school group in China is Yew Chung Education Foundation, to find out more about school groups like these sign up here, and have a look at our schools in China. 
What is the city like? Is there an active expat scene? What do you do in your free time?
Dalian is a beautiful place, the second largest city in Liaoning Province and the largest port in Northern China.
Although as a city it is quite young compared to other ancient capital cities in China, with only a 100-year history, Dalian is a major destination for Chinese tourists. Dalian's scenic spots are the Downtown Area, the Binhai Road Area and the Xinghai Park. The general city's feel is distinctly European.
Although I have not had a chance to explore it yet, I know from my colleagues that there is an active expat scene in Dalian. In my free time, I am busy composing and arranging music. I am also busy preparing for a Chinese driving test, since my own European driving licence is not valid in China.
Another happy teacher, Julia Clegg, has taught in Qingdao; read her story.
Which tourist sites or must-visit places are nearby?
The top 10 of the Dalian attractions are Xinghai Square, Laohutan Ocean Park (Tiger Beach Park), Bangchuidao Scenic Area, Dalian Discovery Kingdom, Xinhai Park, Sunasia Ocean World, Dalian Natural History Museum, Zhongshan Square, Binhai Road, and the Dalian Forest Zoo.
Other nearby must-visit places are Lushun and its strategic port (once known as Port Arthur), the exotic Bing Yu with its clean rivers and caves, the Changbai mountain range and Heaven Lake (quite possibly one of the most beautiful places in China). The Korean War museum (or, as it's known in Chinese, The War to Resist US Aggression and Aid Korea Museum) is also a must-visit place, and finally, the Harbin which is one of the most northerly cities in China, and so close to Russia that it is heavily influenced by its culture.
What is the climate like? Is there any extreme weather? If so, how do you deal with it?
Dalian is in a warm temperate zone with a semi-moist monsoon climate and also ocean climate features. The annual average temperature here is from 8 to 11°C. Dalian's spring begins in late March or early April when the warm southeast ocean winds bring the temperatures up.
Summer is maybe the best time to visit, with mild and comfortable weather which welcomes huge numbers of tourists from different areas of China and the world. The summer period from July to early September has an average temperature of around 20°C and in the hottest month of August thousands of people come to the southern seashore in the city to enjoy the sunshine, the sea and exciting water sports. Dalian's summer is also the rainy period, however most rain falls at night.
In late September, Dalian welcomes autumn and the cold weather slowly begins with the average temperature around 15 to 20°C. From late November, the cold north winds become stronger and dominate the city until the following February. January is usually Dalian's coldest month and can reach -5°C. For that reason, around the end of January, many people take the advantage of the Chinese New Year vacation period in order to travel to a warm place inside or outside of China for their holiday.
What is the food like? Is international food available? Have you tried any unusual local dishes?
Dalian is famous for its fresh seafood: fish, shrimp, crabs, shellfish, sea cucumber, sea conch, echinus, abalone, sea bream and so on.
'Must-try' dishes in Dalian are:
Stir-fried prawns with ginger, spring onion and spices.
Steamed sea bream with ginger, spring onion, mushroom, ham pieces and bamboo shoots.
Steamed scallops with lima beans, shallots, wine and sauces, and served on tender, white egg pieces with vegetables and diced carrot.
Lantern-shaped Steamed Abalone with shallot, ginger and salt.
Men Zi – the traditional and most popular local snack with smashed garlic, sesame, and sauces.
International food is certainly available, however I am still searching for a place where I can eat Greek food, which I really miss…
How is the culture different from your home culture? Have you experienced any culture shock?
Until now I haven't really experienced any culture shock, maybe because I am working for a Canadian school and the Western culture is still very strongly present around my work environment. However I also like the Chinese culture. Chinese people are hard workers, open minded and they easily adopt the good things of the West. I do not notice differences between men and women and the society is quite free and modern. However it is remarkable that in China some internet sites are blocked. Google and all related applications, which are very popular in the West, in China are not freely accessible.
What's the cost of living like? Are you able to save money?
The cost of living in general is lower than in Europe, USA, Canada or Australia. But renting a house is not really cheap in China. However, food, energy costs, transport and fuel are generally cheaper compared to those of most of the Western countries. Teaching couples, who are always welcome to work for Maple Leaf, are able to live quite comfortably and save money as well.
Another of our teachers Helen Weir has written a blog about learning Mandarin, read it here.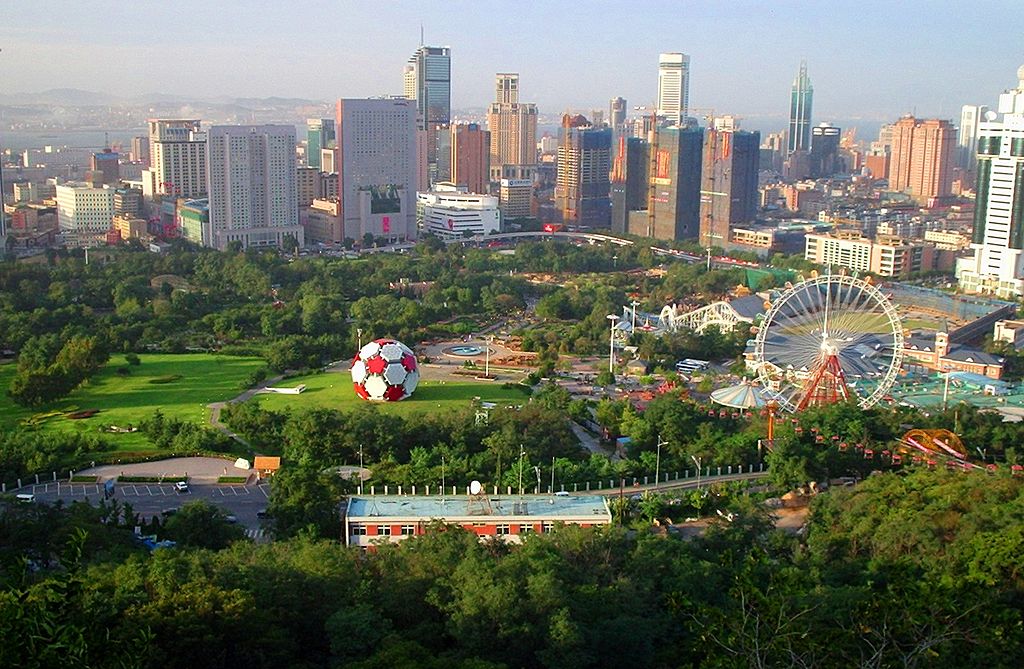 What's the best thing about living and teaching in your chosen city? What have been your highlights so far?
Maybe the best thing about living and teaching in Kaifaqu, the city where my campus is located, is that the house rent costs are in general almost half than when living downtown Dalian. And still reaching Dalian city is very easy by metro, and quite inexpensive too. Kaifaqu also gives a more of a cozy "smaller town" feeling compared to other busier cities in China.
Are there any drawbacks? What kind of person would not be suited to this location?
The drawback of living in Kaifaqu is the access to certain things. For example as a musician, if I need to go to a music instrument shop for accessories or instrument repairs, I always have to go to downtown Dalian as the possibilities are limited in Kaifaqu. People who like to be in the heart of the city should choose to live in Dalian.
What advice would you give to someone who was thinking of coming to live and work in your current location?
I would certainly encourage teachers to come and work in China, because there are many international school opportunities here right now. China is a very big country, it is constantly growing and expanding all over the world, and in general the Chinese population does not speak English, so there is a big need for international teachers.
For teachers that would like to work for Maple Leaf, I would certainly tell them that it is really worth spending the time and energy to get BC certified because it gives rise to plenty of great working possibilities.
Finally, everyone who leaves home or their previous placement deals with "homesickness." You are not unique in feeling this way. You need to be able to go out and make friends, keep a positive attitude, laugh often, and explore. Don't restrict yourself to the school and your apartment. Be a risk-taker!
Are you keen to join a Maple Leaf School in China? Sign up here and have a look at their many schools including Maple Leaf School, Dalian. To find out more about international schools in China, read a blog written by our very own, Alexis Toye.