Kathleen Cordeiro and her family have been dreaming of living abroad for many years, and are now living in Quito, Ecuador, where they have enjoyed the past five months. Kathleen writes to share her experiences of this incredible opportunity so far.
A quick process 
I was applying for English positions in South America through Teacherhorizons and had two interviews, one in Argentina, the other in Columbia, before being offered the position here in Quito. I am now working at a private school called Liceo Campoverde.  It was a very simple process and before we knew it we had packed up our life in Canada, and with 8 suitcases moved our little family of four to South America.
Highs and lows so far
The beauty of teaching internationally is that I have had the opportunity to meet people from all over the world who share the same vision of living abroad and experiencing new cultures and languages. It has been an adjustment learning about this new school and its routines and procedures, but the people here have been so helpful and understanding. The most difficult part has been my lack of Spanish. Growing up in Canada, we learned English and French, so I have had some trouble with communication, but there is always someone who speaks both languages willing to help, and Google translate comes in handy! I have been learning Spanish through a tutor which is funded by the school and am picking up the language little by little.
Interested to learn more about the many languages of South America? Read this blog, written by Rodolfo Roger, an English teacher from Brazil.
The Ecuadorian environment
Quito is a wonderful city to live in and my family and I always have something to do. There are a lot of outdoor parks and green spaces here which are great for exercise and for my two children. We have also experienced earthquakes for the first time. They have not been major ones, but they are fairly common here. The weather is beautiful the majority of the time with temperatures reaching up to 27 and as low as 10 degrees Celsius. It does take a bit of time to adjust to the altitude, but as long as you drink a lot of water and get the rest your body needs, it doesn't take long. They call Ecuador the land of eternal spring and we have not been disappointed by the wonderful climate.
The city of Quito
Some essential sites to see here are Centro Historico, Parque La Carolina and Parque Metropolitano. Also worth doing is travelling to cities like Otavalo where they have one of the largest indigenous markets and of course visiting the coast that includes miles of beautiful sandy beaches, palm trees and ocean breezes. With Centro Historico being named one of the first UNESCO world history sites, it is an exciting place to explore. Quito also has numerous museums and galleries to peruse and there are various areas of the city that have superb shopping. There are so many markets here that you can find whatever you need. There is also a highly active expat community that puts on events and trips that anyone can participate in and not feel alone in a new city and country.
Eating in Ecuador
The food here is amazing! Everything is so fresh and devoid of chemicals. I remember the first time I bit into a cucumber, I couldn't get over how fresh it tasted. The cultural foods here are also delicious and we eat them a lot, despite the easy access to North American chain restaurants such as McDonald's, Tony Roma's and Papa Johns. There are vendors on almost every street selling fresh vegetables and fruits and even little Tiendas (small stores) where you can pick up anything you didn't get at the supermarket. The typical dishes vary depending on where you travel in the three geographic regions of Ecuador (the Amazon, the Sierra, and the Pacific Coast). Here is a great introduction to Ecuadorian food.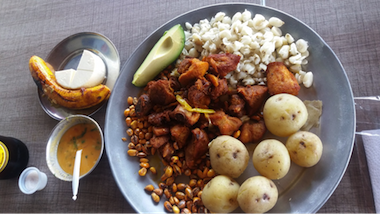 I am a big fan of ceviche, a cold soup served with shrimp as well as fritada, a combination of fried pork, corn and whole boiled potatoes, mote or cooked corn, pickled onions and tomato, and fried ripe plantains.
Adjusting to a new life
As with any major move, there are a few drawbacks. The salaries here are not as much as in North America and moving with a family can pose its challenges as you try to adjust to the new wages. Anything imported here is fairly expensive and because of the taxation on shipped items here, it makes it very difficult to order things from abroad or ship anything out of the country. The cost of living is lower and once adjustments are made, a teachers' wage is one of the highest in the country, so there is an opportunity to save.
Teaching abroad has allowed me to meet so many new friends from all over the world. There are teachers from the U.S.A., Canada, France, Italy, and the UK. It is exciting to not only learn about Ecuadorian culture, but the culture of other teachers who have travelled here to teach.
Liceo Campoverde
The school has been very accommodating helping us with getting our visas while covering the costs and providing additional days off for us to complete our paperwork with the ministry of foreign affairs. We have also received discounts for our children to attend the school and they helped us with finding accommodation and a place to stay when we first arrived in Ecuador. The school offers health benefits and free school transportation and meals for teachers. Working at Colegio Liceo Campoverde has been a great introduction to working abroad as well as international education. The school is set on the side of a mountain with all the hallways outdoors and top of the line facilities for staff and students.
Christmas in Quito
We have just finished our first Christmas and New Year's celebrations here and have been able to experience the different traditions native to Ecuador. Some of the particular New Year's traditions include eating twelve grapes (good luck for each month of the year), walking around the block with a suitcase (for travel throughout the new year), men dressing up as widows and collecting money from anyone on the street (including stopping traffic), and burning small hand-made dolls called "año viejo" to represent getting rid of the old year and issuing in the new year.
How did this happen?
Experiencing new traditions, visiting cultural historical sites, travelling, learning a new language and meeting friends from all over the world are all part of becoming an international teacher. My family and I would not be here if it weren't for the friendly and helpful staff at Teacherhorizons and I make sure to recommend them to anyone looking for educational positions abroad. If you are seriously considering international education, simply take the first step, fill out your profile online and talk with a representative. They will be happy to link you with a school and country that fits your needs and desires.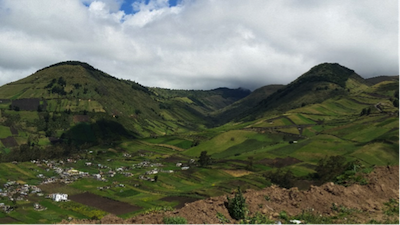 Are you an international teacher? Do you have hints and tips on teaching abroad? Would you like to share inspiring teaching stories from anywhere in the world? If so, we'd love to hear from you! Contact us and share your knowledge and views with the community of our readers!