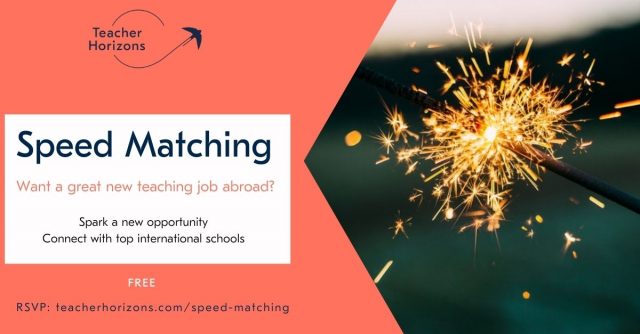 What are the benefits of Speed Matching for teachers?
Unlike the other standard recruitment fairs or 'virtual fairs' for teachers, Speed Matching by Teacher Horizons is a free and optimised service.
We've partnered closely with many of the best international schools for a decade, so we're able to fast-track and personally recommend our candidates for teaching jobs abroad.
Who will be there? Can I meet other qualified international teachers?
Our Speed Matching events will take place on an ongoing basis, virtually and globally. Some events will be co-hosted with specific international schools, others will incorporate a range of schools focussing on specific subject areas.
Speed Matching will allow you to meet a variety of international schools in a short amount of time and also get the chance to network with other educators in our extensive and diverse community.
Which international schools are looking to recruit teachers abroad?
Our Speed Matching events will run throughout the academic year. Each event will be unique and have different partner schools attending. Keep in touch with your Teacher Horizons Adviser for upcoming events in your subject area!
When is the next Speed Matching event?
Our next Speed Matching event will be announced soon. Join Teacher Horizons to register your interest!
We are excited to announce our following partner schools have previously attended:
How do Teacher Horizons' Speed Matching events work? How are they different to job fairs run by other teacher recruitment agencies?
Unlike traditional teacher recruitment fairs, Teacher Horizons Speed Matching is designed to be more efficient and focused.
Each event will last one hour and during that time, you will have the opportunity to interact with a number of international schools looking to hire teachers in your subject area. We provide information on these schools as well as personalized advice on improving your profile and how to standout.
Speed Matching events are unique in that they will be fast-paced, enjoyable and, most importantly, free for teachers.
Will I definitely be able to find teaching jobs abroad?
Similar to any careers fair, you're not guaranteed to secure a position but this is an excellent chance to secure interviews with international schools and network with other teachers.
Before attending the event, we advise that you research the schools attending and be open-minded to every opportunity and all international school teaching jobs. Spark connections and enjoy the experience!
What is the impact of COVID on international school recruitment?
The COVID-19 pandemic has forced almost all international schools to recruit remotely. There has been a significant shift towards online recruitment platforms like Teacher Horizons and it's unlikely that this trend will return to the face-to-face approach of the pre-Covid era.
Why is Teacher Horizons the best recruitment service for teachers to find jobs abroad for teachers?
Teacher Horizons is much more than a recruitment service. It is run by teachers, for teachers. Our candidates get specialist support from Advisers, who are all educators themselves and have a wealth of first-hand experience to share.
We offer a wide variety of international teaching jobs and provide detailed and transparent information about our partner schools. Teachers in our community gain access to our team's first-hand experience of visiting these schools, so they can then make informed decisions for their next international move.