During our school year we encounter all sorts of inspiring people, teachers and students alike. Some we get to know better than others. Veasna is one such lady. Not only is she a 2015 JPA graduate, she's also Teacher Horizons' very own Data Entry Administrator and a dynamic, fun part of the team.
Living and working in Siem Reap, she is also studying a BA in Education.
We've asked 22-year-old Veasna to share her views of what makes a great teacher from a student's perspective. She also reveals her visions and dreams for the future.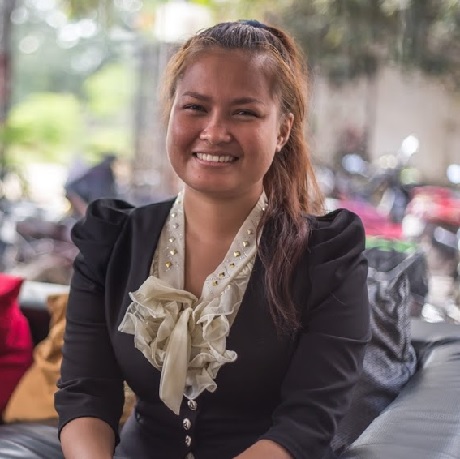 What do you enjoy about TH?
I enjoy the flexibility of working for TH and the team is really friendly and supportive. We have a lovely co-working office in Siem Reap and it's a great place to be.
What's the best thing about growing up in Siem Reap?
Small cities are great places to grow up. My neighbours and friends all live close to my house which means we can share any fruit and veg that we grow in our garden. It's quiet and peaceful. There are many temples that I visit with my family at the weekend, we usually have picnics and cook lots of food. As SR is a tourist town, it's great to meet people from different cultures and learn about their experiences. It's also great because I am able to practise speaking English.
What do you think makes a great teacher?
A great teacher is someone who uses different strategies to engage students and they should also show respect to student's ideas.
What's special about JPA?
Students at JPA are all chosen from my local village. It's a great organisation because they can provide top quality education but also encourage us to complete our Cambodian national exams. Students are provided with opportunities to study abroad. My friends are studying all over the world, some in Thailand and America.
It's now one year since you graduated…what are your plans?
In an ideal world, I would like to save enough money to build a library in my local village in order for children to have access to good quality reading books that will open their minds and encourage them to attend school. Once I complete my degree I would like to apply for a scholarship to complete my masters in Australia.
What remains to be said? Good luck, Veasna!

Teacher Horizons blog manager by night and photographer by day.