Expanding opportunities to work at international schools: prepare yourself to teach abroad!
Who wouldn't like a life of world travel, acquiring new languages and learning firsthand about new cultures? Many teachers find the opportunity of working at an international school too hard to pass up!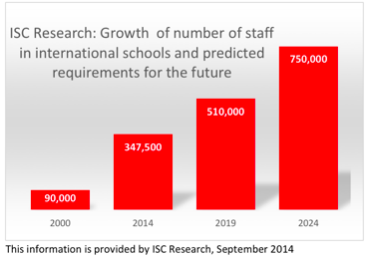 Over the past 14 years, there has been a 35% increase in the number of teachers employed at international schools. International teachers are mostly from the United States, Canada, U.K., and Australia, but not necessarily limited to these counties.
Currently, there are more than 8,000 international schools throughout the world with over 4.3 million students attending. The reason students attend international schools is varied. Some are children of embassy personnel, other families are business expats or work for international organizations. Like the children who attend them, international schools can be very different.
The majority of schools use English as the main language of instruction, although there can be a preference for British or American English. There are also bilingual schools or schools teaching in a foreign language such as German or French. Though many schools have a truly international student population (i.e. up to 40 or more languages and cultures represented in their student bodies), there are other schools where host ­country nationals make up the vast majority of students. Regardless of the differences, there is a growing demand for trained teachers to teach abroad at these international schools.
Another one of the main differences is found in the type of curriculum international schools use. International schools typically offer one of the following curricula: USA, UK, or the internationally recognized IB programme (International Baccalaureate).
Need to get prepared: When researching international schools, find out what curriculum they use and what qualifications are necessary to teach it. Though not always a prerequisite, most international schools recruit teachers experienced in teaching their curriculum. The minimum requirement is often a valid teaching license, two years of teaching experience, and a Masters degree in Education.
The life of an international school teacher can be fascinating and exciting. There are so many reasons which make teaching abroad desirable, but it typically boils down to these five: money, love, travel, location and career. In general, international school teachers who want to live a successful, happy expat life need to be tolerant of diversity and uniqueness, flexible and adaptable as well as curious and open-­minded to try new things. They live abroad in order to explore more of the world.
Need to figure out: Your own reasons for wanting to move abroad and your flexibility with the location and type of school. At best, teaching abroad can enrich your career and change your life. At worst, it can be stressful, expensive, and sometimes dangerous. Thus, it requires independence, resilience, and a lot of question­asking. In other words, do your homework!
Teaching abroad has its perks, that is for sure. Some of those perks can include a housing allowing, a relocation package, and a flight to and from your home country at the beginning and the end of your contract to name a few. Another benefit that is often offered is an annual Professional Development (PD) allowance. To get school support to explore more of what you are personally interested in learning more about is a dream come true for most teachers.
Need to research: Because benefits and packages can vary enormously, it is important to do your research. Network with experienced international school teachers to gather all the information you can. The International School Community website also has numerous submitted comments about benefits that members can check out regarding hundreds of different schools.
You might have heard that one of the biggest perks to take a position at an international school is to earn lots of money! Many teachers want to earn more than they are currently making in their home countries. They also desire living in a location where there is a lower cost­of­living and where they can pay little to no taxes, thus providing them an excellent opportunity to save money. Even if you get a position at a top international school with an excellent salary and benefits, it is not so easy to actually save that money you were hoping for. You need to be smart with the money you are making abroad. It is important to research the cost­of­living for the location in your host country and then compare that to your take­home salary and benefits. Couples can live on one salary in some places, but in other areas of the world that can be problematic. Furthermore, if you move to a new international school every three to five years, have a plan for your pension and retirement accounts!
Need to know: Monthly take­home amount and in what currency, allowance amounts (housing, flight, baggage, etc.), savings potential and about the school's pension plan or your private pension plan options. If you have figured out your goals, made a plan and gathered all the information about an international school, the next step is to get that interview! It is becoming increasingly more convenient to land a job at an international school. There are recruitment fairs that have been around for decades, like the UNI Overseas Recruiting Fair, but now an increasing number of schools are recruiting over Skype. It can be expensive for both parties involved to attend an international school recruitment fair, so the internet has become the way of the future for hiring.
Need to do: Start researching prospective international schools in the spring or during the summer a year before you plan on moving. Have a good cover letter, update your CV, and setup an online teaching portfolio. Figure out if going to a recruitment fair is the right thing for you to do. Get prepared and read the Nine Lessons Learned Regarding International School Recruitment Fairs and spruce up an area in your home to potentially do some Skype interviews. Be careful not to get your hopes up too much when you are job searching for a position at an international school. It can be a challenge to stand out and be at the top of the list when you are first starting out in this community. Like many businesses, it is all about who you know. Many international schools value experience teaching abroad (especially at other international schools). The idea behind this is that it will be a better "gamble" on the school's part to hire somebody who already has experience living abroad and working with an international student body; having worked with English as an Additional Language students will be to your advantage.
But do not worry if you are new to teaching, there are many international schools willing to hire candidates just starting out in their teaching career. Getting a position is basically all about luck and timing regardless of your background experience. When you finally land a job, you must prepare yourself for the big move and for the first few months after your arrival in your new host country.
Need to read: Take a look at the Ten Commandments to Relocating Overseas. Some people just want a change in their life; they want a new and exciting challenge. International school teachers seek out this challenge. The catch is once you start in the international school community, it is hard to stop. The lifestyle you live is one that allows you many more opportunities than if you were teaching back in your home country. If the time is right for you to take a chance and make the move abroad, remember to do your research so that you are well­prepared. Finding a good fit for you and your goals is paramount. The international school community is waiting for you!
Teacher Horizons would like to say BIG THANKS to Ron Rosenow for writing this very helpful and informative article. Ron started his teaching career in the public school system in Minnesota, USA. After six years of teaching in his home country, he got an opportunity to teach abroad in 2006. Ron has since worked at international schools in Spain, China and Denmark. Ron Rosenow is also the owner and founder of the International School Community website.
Are you an international teacher? Do you have hints and tips on teaching abroad? Would you like to share inspiring teaching stories from anywhere in the world? If so, we'd love to hear from you! Contact us and share your knowledge and views with the community of our readers!