According to recent statistics, the number of expats in China is now over 240,000 and counting. HSBC's Expat Explorer survey ranked China in the top 3 destinations for expats, based on the quality of life standards. Moving to China might seem daunting at first, with factors such as pollution, language barrier and culture shock to take into account. However, it's clear that China remains an attractive destination to live and work. The "big three" cities of Shanghai, Beijing and Guangzhou continue to attract international teachers from all over the world.
Teacher Horizons talked to international teacher Alice Nettleingham to get a feel for what life is like teaching in Shanghai.
1. Where are you teaching and what is your school like? What made you choose that location/school?
Hello! I'm teaching at a multicultural kindergarten in the west of Shanghai. It's a prestigious school with students whose parents are well known in China. I try not to think about that too much! I just want the best for my students and go into school thinking, 'Let's learn some awesome English today, have fun and learn how to be lovely people'.
I find in the ESL world that who you know is an absolute blessing. My friend who already worked for the school recommended me. Be hard working and kind to others and they will remember you. In terms of even coming to Shanghai, China, I had just finished travelling around on a motorbike for a year and my friends from Korea had moved on to here and promptly said 'Come on over!'
2. What is the expat scene like in Shanghai? What do you do in your free time?
The expat scene: FOOD, DRINK, PARTY. So many bars, so many restaurants, so many clubs. It's kind of overwhelming. In fact personally for me, Shanghai just has too many expats! I like being in Asia so I can learn about different cultures but you have to dig deeper for it here. The old town where history lies is being demolished and glitzy skyscrapers and money is where it's at here.
I came here to not only teach but play music. The EDM scene is massive here but I'm into heavy metal and rock. You'll usually catch me at a rock bar or a gig. I have to get the hell out of Shanghai regularly though to see some green, so you'll also see me hiking mountains! Chinese mountains are so beautiful.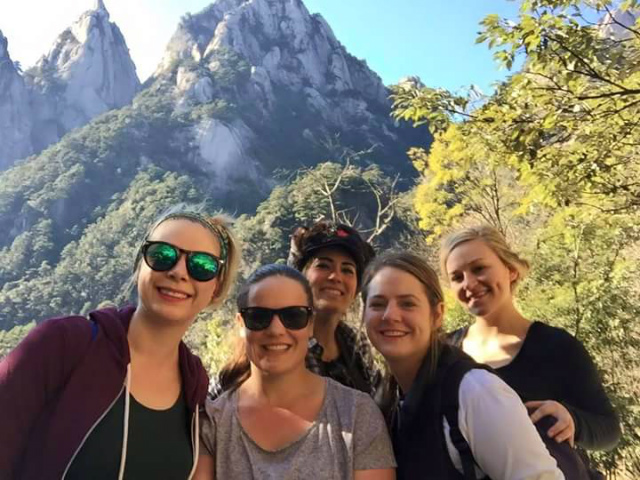 Explore the world of international teaching by joining the Teacher Horizons community – it's free and only takes two minutes. Discover the top locations for you, whether it be salary, opportunity to travel or a great location to raise a family!
3. How do you cope with the pollution in Shanghai?
Believe me, the pollution sucks. Many people complain of not breathing well. Friends say they're wrinkling up faster. The grey skies are pretty sad to see. But Beijing is ten times worse! It is a seriously big problem and the fact that many days a week my students can't go out and play because it's too polluted is saying something.
4. What's the food like? Is international food available? Have you 'accidentally' eaten anything weird?
You want it, you can eat it. Shanghai has pretty much anything you would want to get your mitts on. International food and Chinese food is just everywhere. I would say that I am always intentionally eating weird food… it's just after I've tasted it, that I realise it may not have been such a good idea after all.
5. What about culture shock? What parts of Chinese culture are hard to get used to? Are there any nice surprises about the culture?
This is a tough one to answer because for me, Shanghai is not China. A lot of traditional Chinese culture has been destroyed and it seems that they're very happy to knock down historical stuff here. This is the first place I've lived in where the culture is not actually apparent to me. I feel bad to say that but that's why I try to get out of Shanghai to see how other places live.
6. What's the cost of living like? Are teachers' salaries generally high? Are you able to save money?
Shanghai is a total playground. If you have the cash, you can most certainly splash it. Top chefs open up restaurants here – The Bund is super glitzy. Basically, if you want to eat international food, you will pay for it. If you eat local, you're laughing. The salaries are excellent here and I save money every month. It's important to note that teaching children is where it's at. I taught University students here when I arrived and quickly realised it was one of the lowest wages.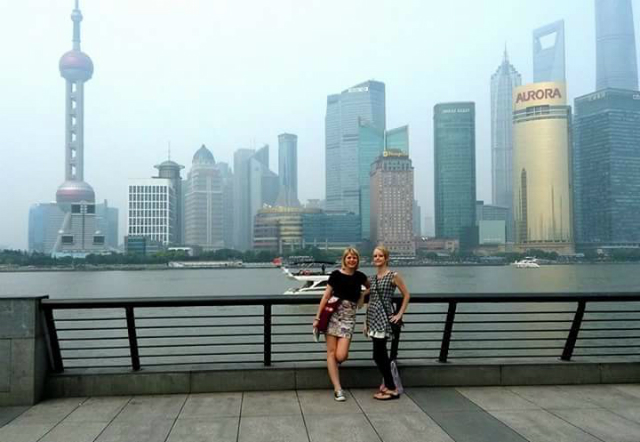 The ability to save each month is often high on the list of priorities for teachers moving internationally. Read more about the salaries and benefits packages on offer in international teaching and learn how to compare them.
7. Do many Chinese people speak English? How do you get around the language barrier?
I think the younger generation does but you need to learn at least survival words to get by, especially if you want to immerse yourself in the culture. I use Mandarin everyday when in a taxi, at a restaurant or in a shop. Outside of Shanghai, I imagine you need to know even more. Learning just a little will take you far and I always think it's respectful to try your best if you are coming into their culture and living in it.
8. What's the best thing about international teaching in Shanghai?
For me it's the money. Many people see this as the time to be in China. Shanghai is the place where you can realise your dreams and go for it. A lot of business people come here with lots of ideas and they totally DO IT.
9. What's the worst thing about living and teaching in Shanghai? What kind of person wouldn't be suited to it?
The pollution, the amount of people living here and the enclosed feeling it can give you. I'm learning that maybe I'm not the right person for Shanghai! I need lots of trees, clean air and water, space to move and a place with fewer expats.
10. What advice would you give to someone thinking of teaching in China?
Go for it! My experience is just in Shanghai ~ China is a seriously big, vast place and I can't wait to explore more of it in Summer. If you are curious about somewhere, go and see for yourself! China has taught me a lot about what I like, love and need and who can argue with that?!
Opportunities in China are plentiful with outstanding international schools offering fantastic packages – browse our full list of vacancies in China. Read more posts about China so you can be sure this is the location for you.

Alice has been teaching and travelling around Asia for the last 5 years, including awesome places like Korea, Japan, Cambodia, Thailand, Vietnam and the Phillipines. She intends to travel for as long as she can get away with it. Check out her blog,
Teacake Travels
.