Irose Hansen is an Early Years teacher who started at Yew Wah International Education Kindergarten of Rizhao this time last year. She tells us now about what her life has been like since she took on this new role, setting up the Early Childhood Education section in the school. Read on to find out about the different aspects of working and teaching in Shandong province, China.
Where are you teaching and what's your school like?
I am teaching in an international school in Rizhao, a small city in Shandong province in China. The school is small and is the only International school in the area. Rizhao is a developing city and is fast growing. I chose China/ Asia as my next teaching adventure, and am so happy I did!
How did you get your job? What was the process like?
I placed my teaching file on teacherhorizons.com and was immediately supported by Maggie. She gave me so much help during my search…Thank you Maggie!
What is the city like? Is there an active expat scene? What do you do in your free time?
The city considerably small, clean and still developing. It is one of the less polluted cities in China. In terms of the expat scene, there is a Facebook page for expat in Rizhao, but I mostly hang out with my Chinese friends and family, and of course teachers from the school.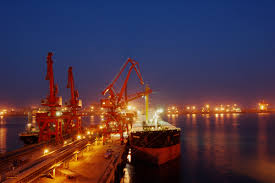 Which tourist sites or must-visit places are nearby?
There are so many! My main must-see place in Rizhao is the beach area, as it is gorgeous. Some parts of the beach are well known for weddings! If you go out of Rizhao by bus or train, there is even more on offer too.
What is the climate like? Is there any extreme weather? If so, how do you deal with it?
China has 4 seasons, where summer is very hot compared to back home (Scotland). Winter is freezing, colder than Scotland! In winter the area gets more polluted as all flats and houses turn their central heating on.
What's the cost of living like? Are you able to save money?
The cost of living is quite affordable for me compared to where I came from before this (Shanghai). I work at an English school and because of this, I am able to save some money. If I worked at a local school I would not!

What is the food like? Is international food available? Have you tried any unusual local dishes?
The Chinese food is wonderful of course. In this particular part of China seafood is very common to find, given the seaside is nearby. However there are international cuisines from Japan, Thailand and Korea. There are also the big chains like Pizza Hut, Starbucks etc.
How is the culture different from your home culture? Have you experienced any culture shock?
There is a BIG TIME difference Scotland VS China! Chinese people are very warm and very friendly, but the downside about it is as a foreigner is that they will stare at you from top to toe :). Luckily for me they think I am one of them, since I am Asian. The problem is though that they start to speak in Chinese and I have o idea what they are saying! I love it here but I do miss the fresh air in Scotland and the quietness. Here there are constant celebrations, so there's not much peace and quiet!
Have a read of our Happy Teacher Archives, for more happy teachers in China and other locations.

What's the best thing about living and teaching in your chosen city?
The best thing is that it's small and my school is the only school in the area. Because the school didn't open an ECE last year, I was able to open one. We started with 6 children and we are now growing to become the department with the highest number of students in the school!
Are there any drawbacks? What kind of person would not be suited to this location?
For my school in particular, a teacher with older / middle school children won't be suitable as the school only caters up to primary year 6.
What advice would you give to someone coming to work in your location?
Learn Chinese!! It would be really helpful if I had actually known a bit of Chinese before I decided to come to China. However, the school staff are very helpful and there is a translation app which makes life much easier. 🙂
Want to join Irose in China? To find out about this school and others, sign up here and have a look at our schools in China.

a brave Early Years teacher who has taken on an exciting role in China.