A transparent & unique school screening process. 
Are you curious about how we choose the schools we work with? As an international teacher you want to know that the school you are applying for is legitimate. As a school you want to know you are part of a reputable and personable platform full of the best candidates.
We work with the best international schools and teachers around the world and in the order to ensure this, we have a rigorous but personal screening process. This process enables us to match our qualified international teachers with the best options for their international teaching career. With transparency being the backbone of Teacher Horizons values, we are sharing our step by step account of how we not only pick great schools, but build valuable and personable relationships with them, too. Read on for the process of how Teacher Horizons screens their schools. 
What does it mean to screen a school?
In short, it means that we check that the schools are suitable places for our qualified international school teachers to work in. We are lucky that we have hundreds of schools contacting us to be part of our platform, but it also means we have the responsibility to ensure they are of the highest quality. Whilst we have a 3 step process, there is more to it than this. Teacher Horizons CEO, Alex Reynolds, sums up our attitude to the screening process well:
Our CEO Alex Reynolds speaks about the importance of screening schools:
"At Teacher Horizons, we are committed to working with schools that practice ethical and safer recruitment practices. We spend a great deal of time getting to understand the schools that we represent and checking that they are good places to work for our teachers. We do this by forming personal relationships with the Headteachers and recruitment teams so that we can share as much information as possible with prospective teachers looking to apply for our roles. We are proud to be visiting almost a hundred schools every year and this has added a new dimension to our level of understanding of the schools we represent. With our wealth of knowledge, we aim to provide a very simple, transparent and personalised service for our teachers" 
250 school requests to join Teacher Horizons in just over 6 months!
We are incredibly grateful for the requests that we get from schools wanting to build a profile page with Teacher Horizons. From September alone we have already had up to 250 schools requesting to join Teacher Horizons. Our first step is assigning the school with an advisor, this way they have a continuous point of reference and can build a personal relationship throughout their journey to becoming part of Teacher Horizons.
What are the three levels of screening that Teacher Horizons uses? 
 We have consolidated the process into  3 levels, but our relationship with the school, of course, extends beyond this. 
Levels:
Admin screen

Online screen

Skype screen
Level 1: Admin screen.
Our admin screening is just an initial screen to ensure that schools are International Schools and can move ahead to getting a school profile page.  We do a quick screen to check they are an international school by looking online that they have an international curriculum & international staff faculty.  We check the person we are liaising with to ensure that they have a professional school email address.  It's the operations team that does the pre-screening and ensures they have a profile page and then matches them with a lead recruitment adviser. 
Level 2 : Online screen.
Once they are matched with an advisor, they can do a deeper dive into the details of the school.  There are essentials that need to be covered which include, google searches and reviews of the school, what other recruitment sites they are part of etc. 
Accreditation is important for an international school and often they are listed on their website. Some examples of accreditations and endorsements are as follows: 
Council of International Schools (CIS)

Council of British International Schools (COBIS)

New England Association of Schools and colleges (NEASC)

International Baccalaureate. (IB)

Middle States Association of Colleges and Schools (MSA) 
We also look at how the school is perceived.  We can look at reviews for this by Google Search of forums and teacher reviews. We tend to explore if the school is featured on or part of other recruitment companies. The website of the international school tells us more information about them, we can look at how up to date they are and if they display recent news and events. We are also able to get a bit of an insight into the facilities that they have, looking out for any images of the campus and area. We then look into contacts. Have we previously had contact with the school? Do we have teachers currently at the school? Do we have teachers who have worked there before? The online screening process already provides us with a solid overview of the potential teacherhorizons school but there is a crucial link missing—connection! 
Level 3: Skype.
Once we have completed the online screening part our adviser requests a call with the school. This is for us to find out more about the school and also to learn about their recruitment desires and needs. As we want to be careful about the schools we work with we really want to find out more about them and it builds a more personal connection, too. Any questions or queries that came up in level 1 & 2 can be asked here. Some example questions we ask our schools are:
How many positions are you likely to have this year and how long do staff stay at your school on average?

What is the school's culture like?

What do you think the school's greatest strengths are?
Relationship building in a connected world.
It is no denying the power of being connected on social media. As both schools and teachers heavily use and value social media representation we make sure that during the process we start to follow our schools on social media and their head teachers on linkedIn. This way we can stay even more connected, and even share their accomplishments and highlights on our blog and our social media accounts. This is all part of building fully rounded relationships with our schools that last beyond the initial screening process and allow us to delve further into their missions, values and interactions.
We visit schools all over the world!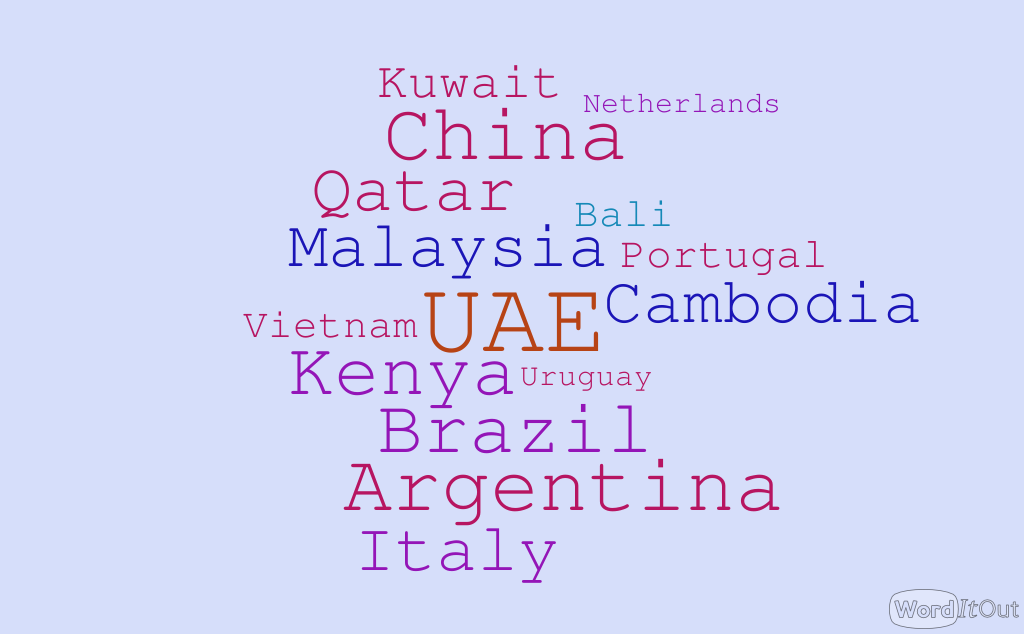 Going beyond a solely online process we are proud of our real life element in the school screening process. Our school visits are an integral part of the school screening process. This year we had a big drive for school visits. With a collective aim to visit 50 schools we actually ended up nearly doubling this! Our visits took us to UAE, Qatar, Kuwait, Cambodia, China, Portugal, Italy, Kenya, Uruguay, Argentina, Brazil, Netherlands, Vietnam, Bali and Malaysia.
What happens on a school visit?
We pack a lot into our visits! First we tour the facilities of the school. During the tour we can gain an overall sense of what it is like to work there, from how we are greeted on arrival to how we witness the teachers and students in a classroom environment. We love meeting the head teachers of our schools, especially as we would have chatted with them online and it is great to put a face to the name. Being face to face is also a useful environment to speak about any challenges the school is experiencing. Upon return to Teacher Horizons any necessary information is passed on to the team and potential candidates. This level of communication and transparency promotes a great attitude across the board.
Make your Teacher Horizons profile today to join the best schools and teachers around the globe.