The future of every community lies in capturing the passion of its people. At Teacher Horizons, community is at our core. Our mission is to build a collaborative community to enable international teachers and schools to explore opportunities, make connections and share their experiences.
We are always exploring ways in which we can grow our community and support our teachers and leaders and our ambassador programme is a key part of this. The aim of the programme is to provide our community with accurate information about what life is like at each of our schools and in their respective countries.
We believe in transparency – that informed teachers make better decisions which ultimately leads to happier teachers and ultimately happier classrooms.
To help make big decisions, we recognise that the most valuable information comes from the personal experiences of teachers who are currently living and working internationally. This is the role of our ambassadors – to be champions of their schools by sharing their knowledge, expertise and experience across our community of international educators.
What is the role of a Teacher Horizons ambassador?
A Teacher Horizons ambassador is the representative and voice for their school. Initially, they will simply answer their school's community questions from a teacher's perspective and provide a short testimonial about life at their school. An important aspect of the ambassador role is to encourage a range of colleagues to complete their school's community questions, so future applicants are informed about what life would be like for families, single teachers, LGBT, etc. Colegio Anglo Colombiano is a good example. The school has already appointed an ambassador and it has been hugely beneficial for teachers interested in working there. 

How will I benefit from being an ambassador?
For all ambassadors, there is the opportunity to take part in webinars, focus groups and have access to professional development opportunities, and by becoming an ambassador, your professional profile is raised amongst the international community. All ambassadors benefit from having a badge on their Teacher Horizons profile so future employers are aware of their ambassador status. There is the opportunity to be a part of a growing community, helping to contribute and empower other teachers within the industry as well as network with other high-profile schools, educationalists, and teachers – let's face it the international community is a close-knit one! Furthermore, this year, we are offering $600 towards any international flight for the teacher who best completes the community questions about their school and can motivate the most of their colleagues to complete them as well.
How will being an ambassador help to grow the teaching community?
It will get your school's community page buzzing and get people talking about what it's like to work there. This communication will bring in more like-minded teachers who want to get involved and work at your school. Furthermore, it will make sure the Teacher Horizons community is able to read accurate first-hand experiences on what it is like to work at your school.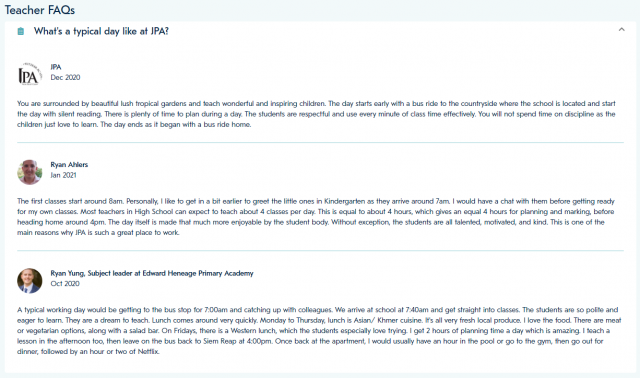 Who decides upon an ambassador?
There are multiple ways in which an ambassador can be appointed but generally they are nominated by either the Head of the School or a Teacher Horizons Adviser. That being said, if you notice that your school is without an ambassador, we would love to hear from you.
What are the requirements to be an ambassador?
All our ambassadors are qualified teachers who teach at international schools. Other than this, they are generally active members of the staff body and have a desire to share their expertise and knowledge.
How long can I be an ambassador for?
Most ambassadors keep their role until they move on from their current school but we ask for a commitment of at least one year.
Can I retain my ambassador status if I move school?
Yes, although this will depend on whether there is an ambassador at the school already. Our goal is for every school to have an active ambassador.
Will being an ambassador help to strengthen future job applications?
Certainly. When recommending an ambassador to one of our schools, our Advisers will always inform the Head about a teacher's ambassador status.
How much time does the role of an ambassador require?
It's a straightforward role and it would only require a couple of hours over the course of the year. Initially, it may be a little more, but it is not intended to be a demanding role.
What would be required of me initially?
A school ambassador will first simply answer their school's community questions from a teacher's perspective and provide a 100-word testimonial about life at their school. The next step would be to ask a range of your colleagues to complete the community questions.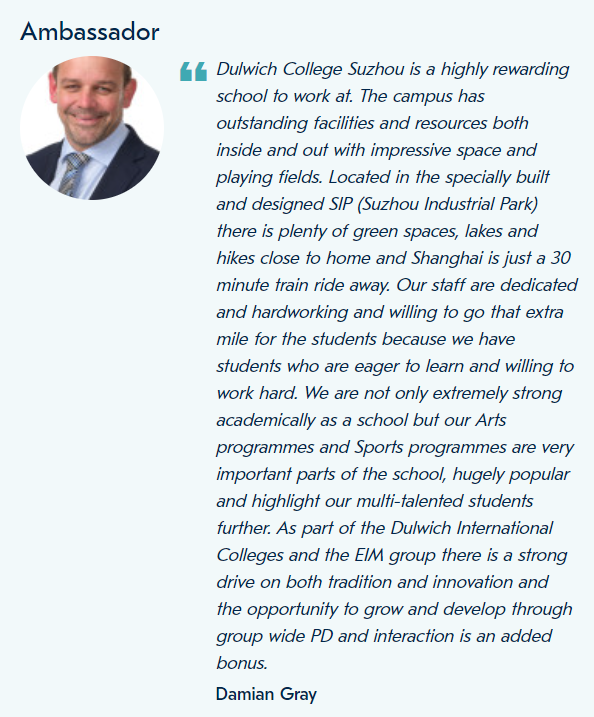 What is the purpose of having the community questions answered by multiple teachers?
We know that every teacher's experience at a school or in a country is different. Therefore, our aim is to have each school's community questions answered by a range of teachers from varied backgrounds and circumstances. These different perspectives will enable our community of teachers to be fully informed when researching schools and countries.
What would happen if I took on the role of an ambassador but then my circumstances change?
We understand that living abroad can be unpredictable. Therefore, we would be happy to re-assess an ambassador's status on an individual basis. If you know of any potential candidates who would be interested in taking your place as an ambassador, then it would be helpful to introduce us to them before you go – but this is not essential.
I want to volunteer to be my school's ambassador. What should I do?
If you feel your values align with that of your school and you would like to contribute to our growing community then we would love to hear from you. If there is an ambassador already in place at your school, then we would welcome your contribution towards your school's community page. To express an interest in becoming your school's ambassador please ensure your Teacher Horizons profile is up-to-date and reach out to helen@teacherhorizons.com for further information.