Of course our Christmas celebration is school related. It makes me realize that there is seamlessness to one's personal/school life here in Venezuela. They are interconnected, unlike back in the States, where we seem to like keeping them separated, compartmentalized, as if students and school staff have two different identities depending on the setting.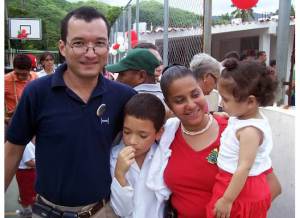 As big as Halloween was here at Pablo Romero Millan (PRM), the coming of Christmas celebration is even bigger and much early preparation goes into the holiday revelling to come.
Teachers and students have begun decorating their classrooms in preparation for Christmas. Rich reds, greens, and golds are ubiquitous on the small private school campus. One classroom even has a manger scene with Joseph, Mary and Jesus on a bulletin board. Try that back in the United States, where public schools have all but abandoned a celebration of the holidays, afraid of offending some and/or incurring a lawsuit.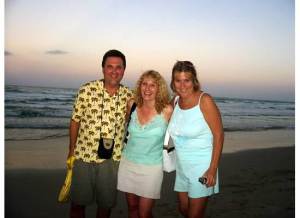 Alicia and I have been a bit like two of the three wise men, following that star to the promise land. It's here on Island of Margarita. There's a heightened happiness that we exude at school each day. Yes, learning is getting done, but we're all looking at the bigger, holiday picture.
It's the last days of school here at PRM, a couple of weeks before Christmas day; they announce themselves with an all-embracing holiday magic. Everyone is excited. It's bitter sweet for Alicia and me, as we'll be off to Heredia, Costa Rica soon. At this point, staff and students know that Alicia and I are planning on relocating to Costa Rica.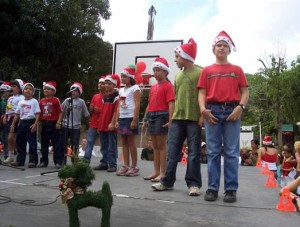 This holiday season, each teacher is in charge of organizing their students to decorate their own classrooms, inside and out. For common areas of the school, students, staff, and parents volunteer their efforts.
There's a contest for holiday decorations and Alicia's fifth grade class wins a prize for their door decoration.In my 4th grade classroom, we create on the back wall a fireplace with stockings that are individually decorated by each student, who glue them around the fireplace, which is made with lots of red construction paper. The 3rd grade students decide to have a huge tree on their door that they then decorate with ornaments that they make themselves.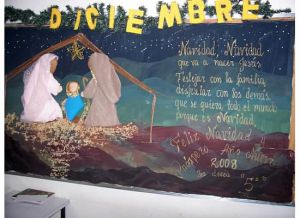 It's priceless how pretty the school becomes over a week's time. It's transformed into a winter wonderland. Of course finals are given and grades are due. Teacher duties along with holiday planning go hand in hand.
All of the holiday preparations lead up, crescendo like, to the last day of school before the Christmas break. There is a big concert on a wood stage, built specially for this party. My 4th grade students dance and sing Frosty the Snowman, while the third graders perform another holiday classic in Spanish. Alicia's classes sing a John Lennon favorite, Happy Christmas (War is Over).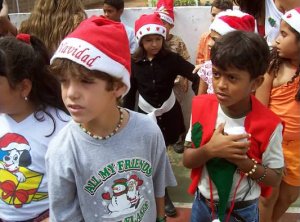 The students are all dressed in red t-shirts and Santa hats. On the basketball court are folding chairs galore with parents and other family members in attendance. There is fabulous food, lots of local Venezuelan dishes, with lots of sugar-plum fairy type desserts, and endless bottles of sugary pop for all to indulge in.
When the day is done, Alicia and I help other staff with cleanup. We've already said goodbye to our students, many of whom have already gone home with their parents to begin their own family celebrations of the holidays. They are happy that there is no school for weeks to come.
We check out our small classroom, still decorated, one last time. We say goodbye to our teacher friends and walk to the bus holding wrapped presents that some of our students gave us, knowing that this will be the last time we take the bus home from school here on the Island of Margarita.
Joe Haviland is a New Yorker, one of eleven children, with a B.A. in journalism from New York University and an MSEd in Elementary Education from University of Bridgeport in Connecticut. Married to Alicia Frank Haviland. Both Joe and Alicia have taught internationally at schools on the Island of Margarita, Venezuela, in Heredia, Costa Rica, and in Miramar Mexico.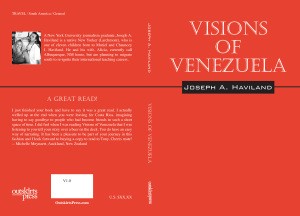 After Mrs. Haviland graduates with a B.A. in Secondary Education from the University of New Mexico this month, the two will be teaching internationally again. They are currently investigating teaching opportunities on all seven continents. This is an extract from the penultimate chapter of Joe's book, Visions of Venezuela