Teacher Horizons is proud to be attending the IB conference in The Hague this October, where we will be launching our new Explorer service and providing an introduction to interested schools. If you would like to find out more about how your school can save time and money on recruitment, come and meet us there – we have a special offer for anyone attending. Here is an outline of the service, along with our two existing services, and how to set up a meeting.
1. Basic – free profile and adverts (low impact)
This service allows your school to advertise as many positions as you like and we will direct applicants to your website. Whilst we have a small membership fee for this, we are happy to offer it free of charge if a school's profile is over 80% complete. Schools tend to get a limited amount of interest from this service as we don't proactively market their vacancies – only candidates that purposely come across the adverts will apply. Start here!
2. Explorer – you find candidates (medium impact) **Our new service**
This is a new service we are trialling with some selected schools. It allows schools to search and filter candidates who are actively looking (green), access profiles, CVs and confidential references. It puts the school in charge of contacting candidates, screening and shortlisting. There are no up-front costs for the service at all – schools only pay if they hire a candidate they like, and the fee for this service is about half typical recruitment costs – enabling your school to save significantly. Start here.
3. Global – we promote and screen intensively (high impact)
This is our most popular service at Teacher Horizons and is a recruitment agency approach. We advertise and promote schools and their vacancies extensively to our community of over 100,000 candidates. We also promote them via our networks such as Teach First and the IB, jobs boards and social media channels. We then screen, shortlist and interview the strongest candidates, and send the profiles that best match the school's specific requirements to them to review (including CV, confidential references, supporting documents and profile summary).
As with our Explorer package, there are no up-front costs for our Global service – schools only pay if they hire a candidate they like. We have also ensured that the fee for this option (though higher than the Explorer fee as our team spends lots of time screening) is still affordable for our schools. Start here.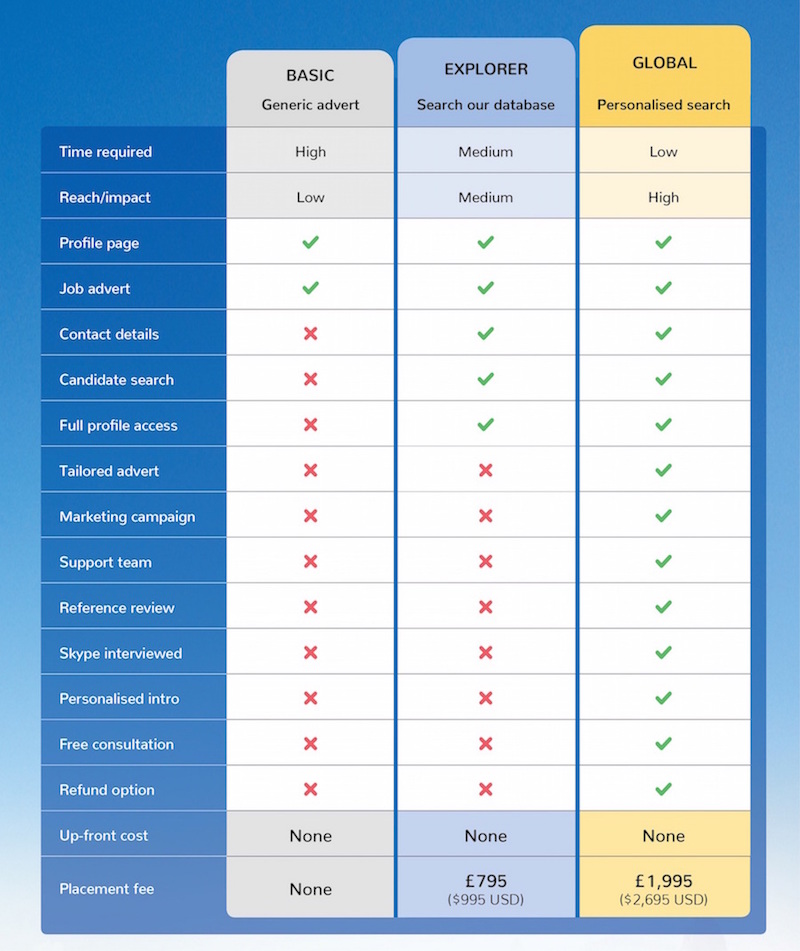 As you can see, there are no up-front costs for any of our services and it's possible to use a combination of these services depending on the time of year. You can read our full T&Cs here and our Safeguarding policy here. In our next blog we will be explaining more about our Explorer package, giving schools everything they need to know to make an informed decision as to which service they would like to use. Watch this space!
How to find us at the IB conference:
During the conference, you will find us at Table Number 87 and we will be using this opportunity to launch our Explorer service. We will also be offering free demonstration and training session on how schools can make use of this really unique recruitment product. If you are a school or recruiter and would like to sign up to attend one of our product demonstration sessions, please register by clicking on this link.
We would also love to meet current and future Teacher Horizons members! If you are a teacher interested in booking a 15 minute time slot to speak to one of our on-site recruitment advisers, you can book a time by clicking on this link.
Can't attend the IB conference but interested in the new service? Get in touch by emailing info@teacherhorizons.com. We will direct you to the right person to speak to.

Teacher Horizons Blog Manager and Recruitment Adviser.