From the very first contact I had with Helen, I felt cared for and supported…Friendly, professional and helpful advice – couldn't have asked for anything more. Experiencing a new culture, and developing my international teaching career.
Anita Povey, placed via Teacher Horizons Explorer and teaching in Myanmar
You might be curious to know exactly how Teacher Horizons matches candidates with schools around the world. What goes on behind the scenes of the magic orchestrated by our International Advisers?
There are a number of different avenues that can lead to a successful placement. We wanted to highlight one tool in particular that has received significant interest from teachers and schools alike in the last year. We connected with Shaun Walling, our Operations Coordinator, to learn more about our recently revamped Explorer tool that allows schools to search for candidates in the TH database to find the perfect fit for their community.
Take a peek at some questions we posed to Shaun about the Teacher Horizons Explorer tool and how you can get noticed by our 300 engaged schools.
What is Teacher Horizons Explorer?
We developed a tool that enables schools to search and filter candidates from our database. It puts the school in charge of contacting and shortlisting candidates themselves. So if a school is looking for a candidate with particular experience, they can identify teachers with that skill set and set up interviews.
Our recent updates to the service include improved compliance policies, support for candidates pre & post interview, and moderated communications to ensure a smooth and happy hiring process. It provides another way for teachers and schools to connect and find the perfect fit for both parties.
How can I get involved?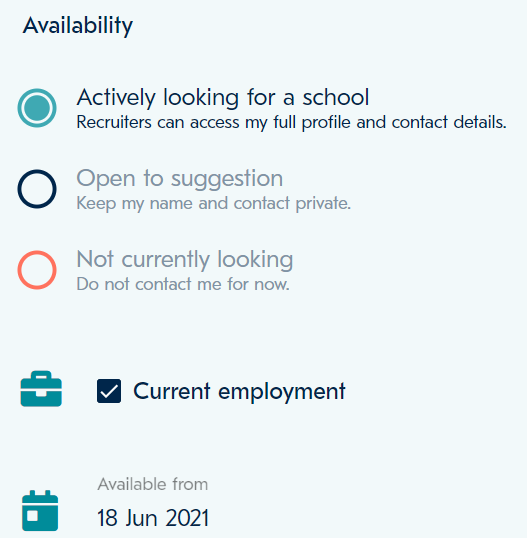 If you haven't already, create a TH profile. Set the availability on your profile to 'Actively looking for a school'. And viola, schools will be able to view your profile. To update this just go to the "Key details" page of your profile settings. Then you can just sit back and wait for schools to reach out to you. Or you can browse open positions from the thousands of jobs posted on the site.
Our recently updated teacher profile pages allow candidates to provide information about their computing and teaching skills. If you would prefer that your profile is not visible to schools with access to the Explorer tool, select "Open to suggestions" or 'Not currently looking' on your profile page.
How can I make my profile more attractive to schools via Explorer?
Schools are looking for teachers that have complete profiles which provide a holistic portrait of available candidates. Providing additional information about your educational philosophy or uploading videos of yourself teaching via the "Supporting docs and videos" page will attract schools to your profile.
Be sure to identify your technology and teaching skills under "Skills and languages" to help interested schools find your profile. Here you can promote how you adapted to the challenges of online teaching and showcase the unique efforts you made to stay connected with your students.
Can all schools on your website view candidate profiles?
Only selected schools have access to our Explorer service. Our first stage of screening ensures that the school is a verified and quality international school. We then discuss the service with the school, put good lines of communication in place, and receive agreement to the terms and conditions of use before access is granted.
How do I know if a school has viewed my profile?
We will email you a monthly update containing a list of schools that have clicked on your profile. If you are not getting noticed as much as you would like, try adding examples of resources you created or provide some photos of yourself teaching. If a school wishes to interview you, they will contact you directly.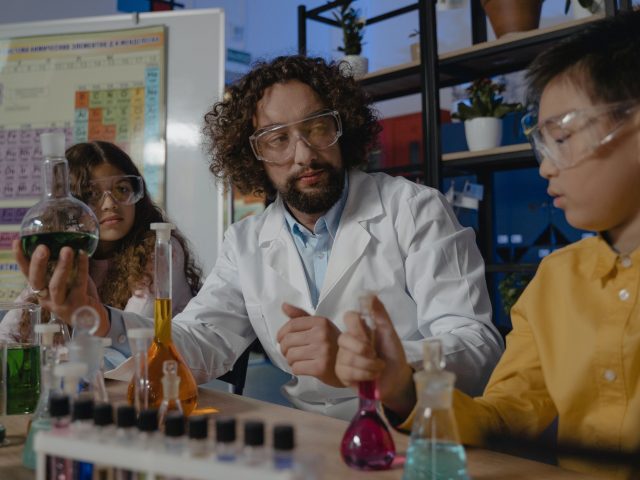 Will Explorer schools contact my referees?
Not without you knowing. As part of the terms and conditions schools agree not to contact referees before they have interviewed a candidate.
Can my current school see my profile via Explorer?
Possibly. If your profile is activated and set to 'Actively looking for a school', there's a chance your school could see your profile. We therefore recommend informing your school if you are considering moving to avoid potential issues.
I want to find out more about the school before responding, who can I contact?
First, have a look at the school's profile page on Teacher Horizons. You can find answers to more specific questions under the school's Community tab. If a school's ambassador has completed the FAQs section you can learn about what it is like to live in that country and teach at the school. If the information you are looking for isn't available, please send any inquiries regarding Explorer to info@teacherhorizons.com.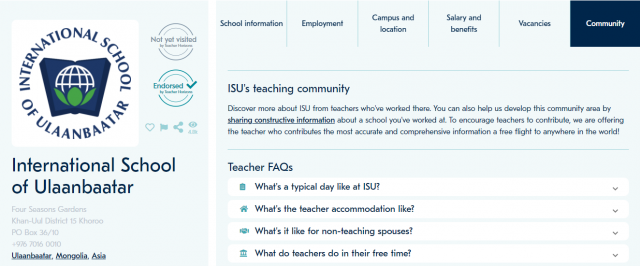 Do I have to pay for my profile to be seen?
Like all of our services for teachers, there is no fee for candidates.
Is there anything I need to do?
Nope! As long as your profile is activated and set to 'Actively looking for a school', your profile will be visible to the schools registered to use the Explorer service. All we ask is that you respond to any interest from schools and inform us if you are hired by a school. If you aren't interested, please respond to let the school know.
Didn't find the answer you were looking for?
Please send any questions to Shaun at info@teacherhorizons.com.
I can't say enough about how helpful Teacher Horizons has been, and in particular, my adviser, Katy Pugh. She made the whole process simple and easy to navigate; also, she displayed a refreshing honesty in a profession that isn't necessarily known for that quality.
Lee Herbage, placed via Teacher Horizons Explorer and teaching in Albania