My two year old's future was bright. He would attend an International School, learn Thai and Mandarin, complete an International Baccalaureate and maybe go on to either a US or UK university. We would save money and enjoy trips to Koh Samet every other weekend.
I did not think about some of the more pressing issues such as nappies and food, nor did I think about pushing around prams and negotiating public transport and letting agents.
We moved to Thailand in August 2012. It was a decision that took months in the planning and interviewing stage and a split-second in the packed up and gone stage. In hindsight, I should have conducted a little more research into the new lifestyle ahead of us. The Thai phrase of 'mai pen rai' which literally translates as 'don't worry about it' is deeply embedded in Thai culture but we Brits require a little more preparation and planning.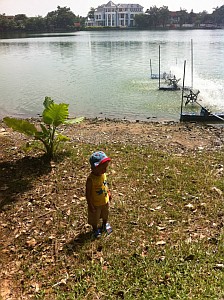 If you are moving abroad with your family, here are the things I should have known beforehand.
Housing and costs
Research the cost (and process) of renting a home. In Thailand, it is common for you to provide two months deposit and one month in advance. You should always research the area surrounding your school and ask your school to recommend some places to live and approximate prices. We found it varied hugely between developments and some developments had no local shops and were miles back to the main roads.
Negotiate your rent and the items you do or don't want in the house. Check with people at school as to whether it is a good price for the area.
If you require the services of a nanny or medical care, ask the other teacher-parents at your school, I found they were the most helpful with their answers even down to which cable package was best to go for.
Check your contract
Sounds silly but make sure you know what your contract contains such as who is covered by medical insurance and who isn't. If your spouse or child aren't, then ask your school to add them to your policy.
Make sure you have the correct visas on arrival and check with your local consulate for the up to date information. Ask your school who is responsible for your family's visa – you'll be surprised at how vastly different the policy is from school to school. Some do not pay for your visas, some only pay for yours and not your dependent or spouse.
Do some research into ex-pat jobs and fields especially if your spouse is not a teacher and intends to work – the Thai labour laws can be difficult to negotiate. Any company wishing to hire foreign staff must prove the post can not be filled by a national. They also must hire 4:1 Thai to Ex-pats.
Also, does your school provide flights or free school places? Take this into consideration when negotiating pay. Flights back to the UK can be especially expensive as can school fees even if reduced to 50%.
Ask when your first pay day is, you may find it is 6 weeks away. Finding your feet in the first few weeks can be exorbitantly expensive.
Travelling with children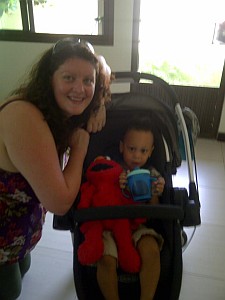 The public transport system is not geared up for buggies and pushchairs and the pavements of Bangkok are often crowded with vendors and inappropriately placed street furniture. However, if your little one is too big for a sling or carrier then brave it. Using the overhead crossings can be a bit tricky as they usually have no lift or escalator. Maybe consider downsizing your buggy to the very handy Backpack Stroller especially if you plan to island hop around Thailand.
Buying and renting cars in Bangkok is expensive. Taxis are inexpensive and numerous but whether the capricious cabbie will take you where you want to go is another matter. If they do, insist on the meter being used at all times and be prepared that none of the taxis have seatbelts for you or your child. And definitely learn the words left, right, slow down and stop. Ask someone at your school to write your address in Thai so you can show the driver.
What to bring with you
If you do have a little one then bring enough nappies and baby wipes to last you a few weeks. They are readily available in most 7/11s but it's one less worry for you when you are house hunting/starting new jobs etc.
If you are worried about your child eating the local food, bring your child's favourite brand of things such as cereal or baby food as they do taste a little different. We found that our little one's pallet soon adjusted to the food and he has a good appetite for the local cuisine. He loves going to the market and spotting the different fruit and vegetables. There are western supermarkets but they are expensive compared to the local markets and stalls.
Jars of baby food are available, however, the ingredients are not always in English so for your own peace of mind it is definitely worth investing in a blender and making your own.
If your baby is still using a bottle, cup or dummies then bring some extra ones as the shops tend not to stock western brands. The ones stocked are not as robust as the ones you may be used to.
I brought a selection of books and favourite toys with us, most airlines will let you check extra baggage in on-line at a much cheaper rate saving the agonising decisions of what not to bring.
Family life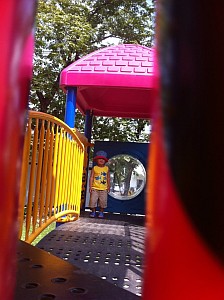 After a few weeks, we were settled and I bought 'What can we do today? Kids in Bangkok'. It's a selection of activities which on a weekend we select at random and head off to do. We have visited the zoo, a water park and even been ice-skating – discovering that Bangkok has a lot more on offer for families than it at first appears.
Thai people love children and you will find them welcome all over and in places you might not expect too. Expect people to pick them up and offer them treats and gifts. When you relax in the knowledge that there is no Health and Safety and that rules no longer apply, just enjoy it. Mai pen rai.
Some helpful websites

a Curriculum, Planning and Pastoral Delivery KS Coordinator at a Preparatory School in Thailand. Follow Julia on
twitter.