The Giant Puppet Project is a children's community arts project that was established in Siem Reap, Cambodia, in 2007. The project culminates in a yearly parade, where elaborate puppets representing educational themes are paraded through the streets. Because our Asian office is based in Siem Reap, Teacher Horizons took the opportunity to get involved with the 2015 incarnation of the parade.
Why did we choose to support this project?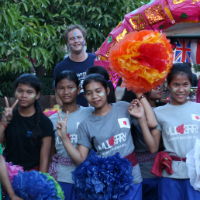 The parade is spectacular, with stunning enormous puppets that light up from the inside and feature surprising details such as blinking eyelids. But the project isn't just about putting on a pretty show. Behind the scenes, artists, educators, organisers and charities come together with the all-important aim of teaching young people practical transferable skills and knowledge.
Artists and electricians come from overseas and work with local schools and charities to create the puppets. In the process, young people learn practical craft skills such as how to create the wire frame and install the lighting systems safely. At the same time, they gain experience of teamwork and cooperation, and can feel proud to contribute their skills to a project with a visible result. The creation of each puppet is overseen by student artists from the town of Battambang, who gain experience in project management and event organisation.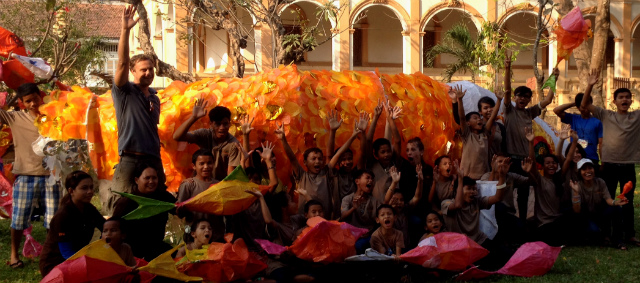 In addition to practical skills, the children who are involved also learn about themes related to their puppet. They take part in educational workshops in the weeks preceding the parade, where they are educated in areas such as road safety, hygiene, and environmental awareness. For example, they are taught to avoid killing snakes in the rice fields, because snakes control the population of rats that might eat their reserves of rice.
How did we help?
We sponsored a local charity to create a puppet – namely, the charity HUSK who work with impoverished communities in the Siem Reap province. The puppet is a giant fish (which is temporarily living in the Teacher Horizons car park). The fish represents the species Mekongina erythrospila, which many villagers rely on for food, but whose population is declining due to overfishing. The workshop aimed to raise awareness about sustainable fishing, so that the species does not become endangered.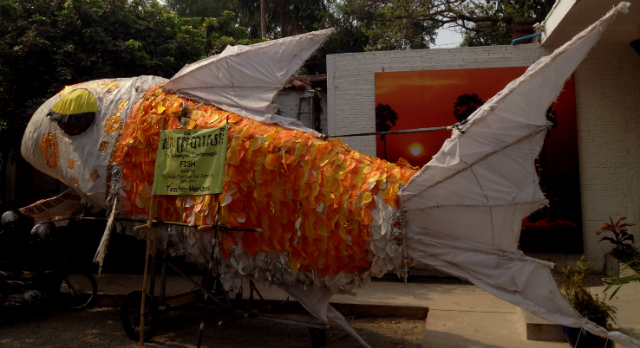 We visited the project and helped to cut up paper and lift and carry heavy items. We were also allowed to create an octopus puppet for our Teacher Horizons tuk tuk!
Teacher Horizons are committed to donating 10% of all profits to education charities that work in the developing world. Read more about our other charities.

who lives and teaches in Cambodia. Sammy has her own
blog
.