"Nelson Mandela's achievements came at great personal cost to himself and his family. His sacrifice not only served the people of his own nation, South Africa, but made the world a better place for all people, everywhere… He showed the way. He changed the world." – Secretary-General Ban Ki-moon
Every year on 18 July — the day Nelson Mandela was born — the UN joins a call by the Nelson Mandela Foundation to devote 67 minutes of time to helping others, as a way to mark Nelson Mandela International Day.


For 67 years Nelson Mandela devoted his life to the service of humanity — as a human rights lawyer, a prisoner of conscience, an international peacemaker and the first democratically elected president of a free South Africa.
International Nelson Mandela Day aims to inspire a ripple of good deeds throughout the world, and looks to encourage individuals, communities, governments and non-profit organisations to take one small step towards making a very large collective imprint for good.
With just under a week to go before the big day on 18 July, you can still get your students involved in simple activities that champion the values Mandela fought for and share his message for peace and humanity.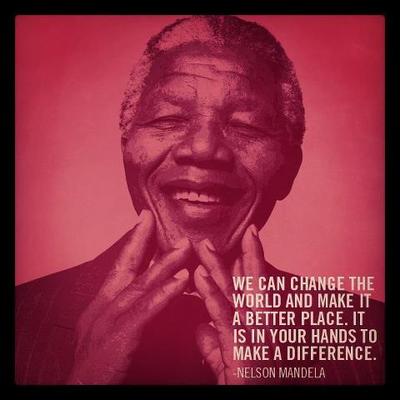 Below are 5 simple yet powerful things I've taken from the Nelson Mandela Foundation site that you and your students can do to commemorate Nelson Mandela International Day (and beyond) to inspire change:
Make a new friend. Get to know someone from a different cultural background. Only through mutual understanding can we rid our communities of intolerance and xenophobia.
Trade skills, talents and interests with others to help strengthen your community.
Go for a walk or trek, visiting places that are new to you or that you would like to explore in more depth.
Help out at the local animal shelter. Dogs without homes still need a walk and a bit of love.
Buy a few blankets, or grab the ones you no longer need from home and give them to someone in need.
Get involved – inspire and support your students to take action! Visit the Nelson Mandela Foundation site for more suggestions or to create your own action.

former Teacher Horizons blog editor. Now she works at vInspired - a digital platform that enables young people to take action on causes they care about.