Join our community of international teachers and gain access to trustworthy information and advice on schools around the world.
More than just a place to explore a range of international teaching jobs, Teacherhorizons is passionately committed to building the biggest and most active community of teachers who contribute regularly to our site. We provide a user-driven platform where teachers can access free, transparent and honest information about everything to do with teaching in international schools, and get access to support and advice from former international teachers and Headteachers.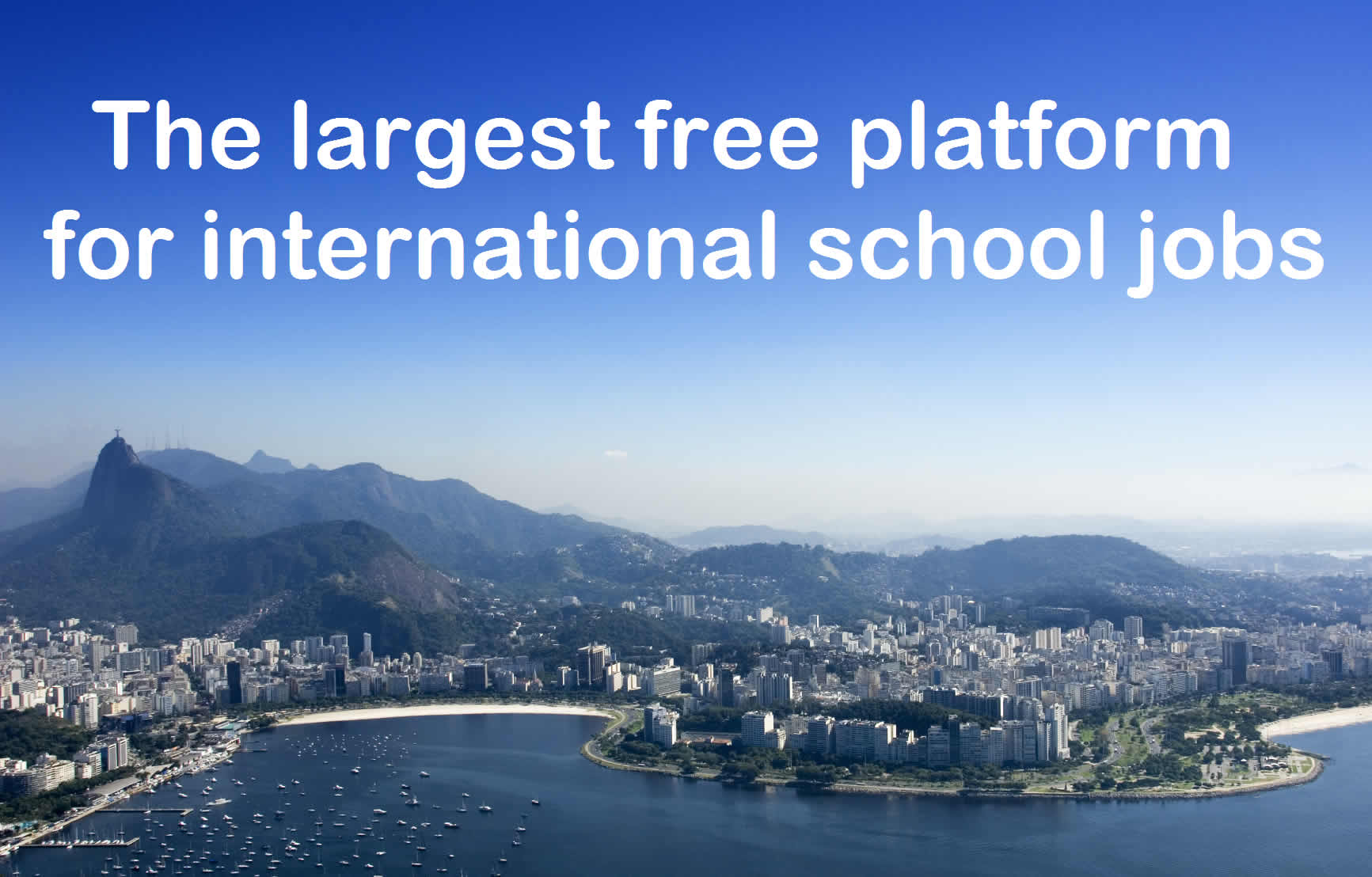 Your feedback drives our improvements
Our aim is to provide this kind of free advice in combination with personalised support and guidance, and assistance with the process of applying for teaching jobs overseas. The process of finding and applying for good jobs in reputable international schools used to be time-consuming and stressful, and we do our utmost to turn this around, making it easier and easier for teachers to find their next dream job. Teacher feedback is everything to us – Teacherhorizons thrives and grows based on the continued suggestions and comments from our teachers, Heads and international school partners.
In the last year, Teacherhorizons has received feedback from over a thousand international teachers on what they want from a platform that lets them search and apply for the best international teaching jobs. By far the most common request we received from teachers was for more jobs to be listed, and that is exactly what we have focused our efforts on in the last few months: more jobs, in more schools, in more countries. Now, in addition to jobs where Teacherhorizons works closely with the school, we will also be listing external vacancies where teachers can apply directly.
There are now two kinds of jobs listed on the Teacherhorizons site; Teacherhorizons supported positions and regular job listings: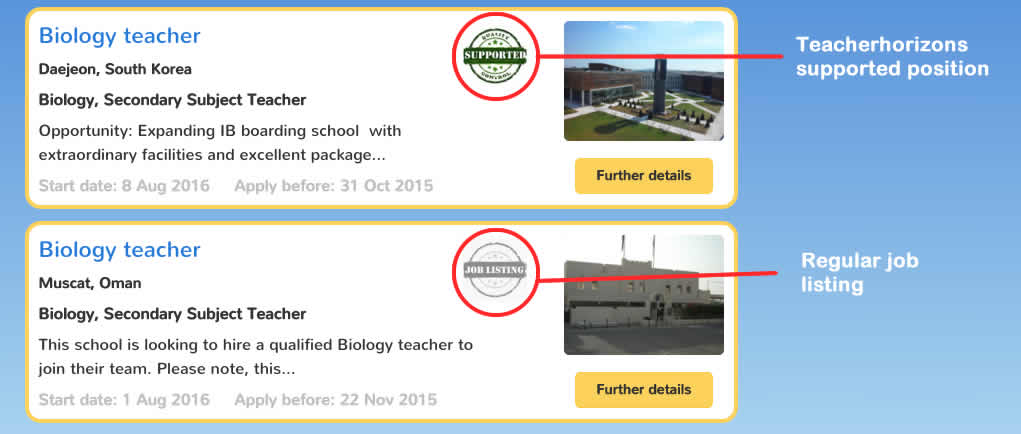 Teacherhorizons supported positions:
Full job information including teacher salaries and benefits
Personalised support, advice and guidance from your Teacherhorizons Adviser
Detailed insights on the school based on visits by our staff
Fast-tracked job applications to the international school Head
Apply easily with your Teacherhorizons profile – no need to fill out more forms
Regular job listings:
Complete your own research on the international school and teaching job
Apply directly to the school through their application system
Make sure to include a link to your Teacherhorizons profile so the school can view it
More details on Teacherhorizons supported positions: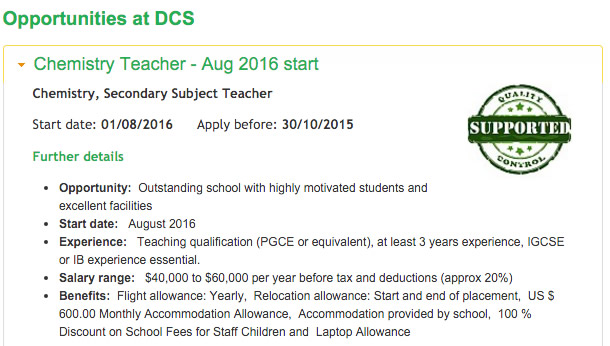 In most cases for Teacherhorizons supported positions a Teacherhorizons representative will have actually visited the school, got to know the Principal and will have a detailed insight into the school's curriculum, professional development opportunities, campus facilities and even expat life in that city or town. As a company we visited over 200 international schools last year, and the total number of schools we work closely with is growing weekly.
Full details of teacher salaries and benefits – You will be able to view full details about the teaching job on our website once you are logged in, including benefits, the international teaching salary and school accommodation allowances.
Honest and transparent advice – Your Teacherhorizons Adviser will be able to give you honest advice about the opportunity and how it matches up to what you are looking for in your next international teaching position, so that there are fewer surprises when you arrive. Your Adviser will also be able to answer any questions you have about the school, tell you in detail about the role and, if your experience and skills match the job, support you with your application.
Fast-tracked applications – Teacherhorizons supported positions can be applied for on your behalf by your Teacherhorizons Adviser, who can fast-track your CV and profile page directly to the Head, meaning that you don't need to fill out dozens of application forms. Teachers are busy people and so are Principals – Teacherhorizons supported positions reduce the workload for both parties.
More details on regular job listings:
Regular job listings shared on our website allow you to see a broad range of opportunities at international schools all over the world, but unfortunately we cannot support your application with these positions. Your Teacherhorizons Adviser may have some limited information about the school and the teaching vacancy, however, most of the research into the position needs to be completed by the teacher applying for the job. Regular job listings cannot be applied for with your Teacherhorizons profile, meaning that you will need to apply to the school directly, although it is always best practice to include a link to your Teacherhorizons profile in your cover letter so that the school can view it.
A new sign-up process for teachers
Based on these new types of job listings, the Teacherhorizons sign-up process has changed slightly. Anyone can now view a summary of the all the teaching jobs we have listed on our site, however in order to see full details about the position including school names and photos, experience required, teaching salaries and how to apply, you must have your Teacherhorizons profile activated and be logged in.
Get Activated
Once you have created your profile and uploaded your CV, one of our specialist Advisers will review it and be in touch within two working days. If you have the training and experience our schools are looking for, your profile will be activated. Whilst you're waiting to hear from one of our Advisers, it's worth completing as much of your profile as possible, this way you'll be ready to move quickly once activated.
We work with top international schools that can be very selective and have very specific requirements. For this reason, your account may not be activated if you do not have the right training or experience yet. You may need to gain an extra qualification or some international experience before reapplying.
On the other hand, if we feel that you are an outstanding candidate you might be invited to become one of our 'endorsed' teachers. Please note, only about 15% of our teachers get endorsed.
Your Teacherhorizons Adviser can then put you forward for positions that match your career goals, your skills and experience and the lifestyle you would like in your next international teaching job. Since by this stage your Adviser will have got to know you, they can put forward a personalised recommendation directly to the Head of the school, detailing why you would be the best fit for this position. Schools then reach out to shortlisted teachers directly. If you are looking to move this year, now is the time to update your profile and start getting updates on new opportunities!
Still need help? More articles giving help and advice on our process can be found here, and also here!