The flight to Pokhara is short, about 35-40 minutes, and passes parallel to the Himalayas. Imagine flying below the peaks both ways! Quite simply, this was the most spectacular flight of my life. Be sure to get window seats!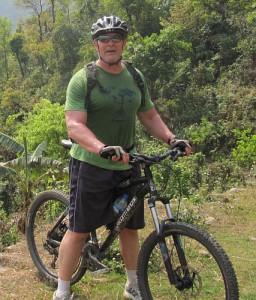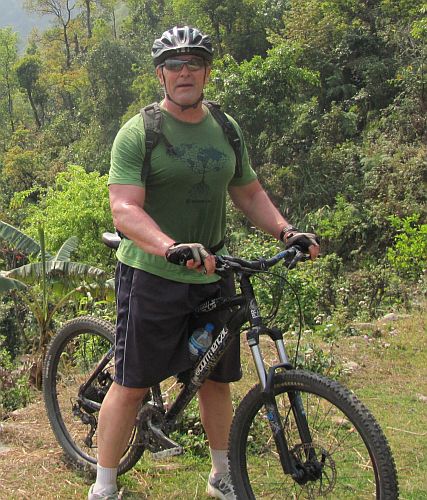 We return for part two of Ron's travels through Nepal. Last week we shared his experience of Kathmandu. Ron Ross is an international teacher working in Kurdistan, Iraq in the peaceful province of Erbil – a city rapidly approaching a population of two million.
After a week in Kathmandu I went to the resort town of Pokhara, which I highly recommend for its beauty and its outdoor adventures. I visited just over a year after a major knee operation and didn't yet feel confident about one of the major treks, but they are certainly available. The most popular seems to be the Annapurna Trek, which can be anything from a week long to twenty days. It's a trek of remarkable beauty and requires a fair degree of fitness for the altitude and mileage, but no technical climbing skills. In both Kathmandu and Pokhara you'll see dozens of travel shops catering to trekkers and climbers, besides the rafting, paragliding and mountain bike tours. I chose four all-day micro adventures that would not stress my knee too badly – I'd like to share two of these with you.
Hiking
My first was a hike outside Kathmandu that climaxed on top of what amounts to a hill in the Himalayas looking down over the city – though said 'hill' would surely count as a mountain in most other places! I had my own guide on this climb. The taxi driver coordinated with him by mobile to get me to his house at the foothills in a smallish village where his wife had breakfast and lots of strong coffee waiting for me. We sat with his wife and two kids as he pulled out a crude map and pointed out our adventure for the day.
The climb took us through some small villages where the people are working the terraced fields and cattle are roaming around, dogs and children run up to greet you as you pass through. Really charming. Some seemed to know my guide and he pulled from his daypack a bag of hard candies to pass out to the kids. I found this guide through the agency attached to the hotel I was staying at and the prices are negotiable, so check around and don't feel bad making an offer at least 20% less than what they're quoting you (as a foreigner). I returned that evening beat and exhausted , despite my knee I'm a fit guy, and went straight to bed and slept the night through. Well worth the effort!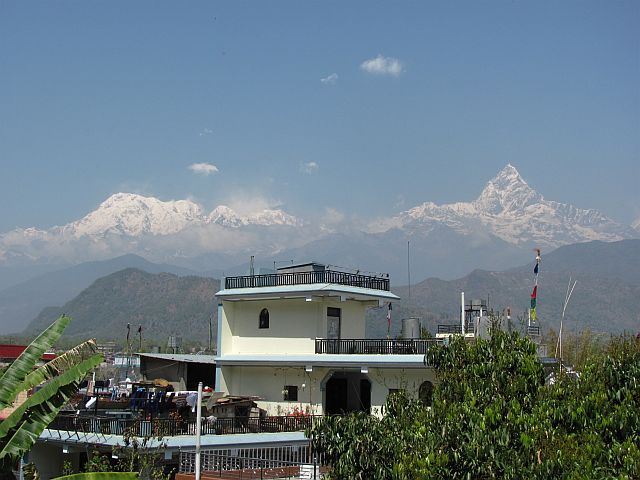 Mountain biking
My next micro adventure was mountain biking. Due to all the spin classes I had been doing, besides my experiences living and riding at 3,000 meters in the Peruvian Andes between 2008-2012, I was feeling adventurous and picked the 'difficult' course. I ended up the only rider with a special guide who had to come and take me on it. Difficult it certainly was! I think I actually carried the bike about 25-30% of the time. Brutal! And the downhills, wow… real white-knucklers! But it was beautiful and scenic and well worth the challenge. At the end of the day, again, I was just the right kind of exhausted.
I recommend Pokhara Mountain Bike Adventure at the end of Lakeside. They have an excellent selection of bikes, well maintained and they've invested in good, quality fat tube mountain bikes with the good components to make your ride enjoyable. They have many courses to choose from – I wouldn't recommend 'difficult' unless you're very fit and have some experience going downhill in difficult terrain. Their menu includes altitude and incline graphs with photos to help you choose the best course for you. It's a great way to get out and around Pokhara and take in some wonderful scenery.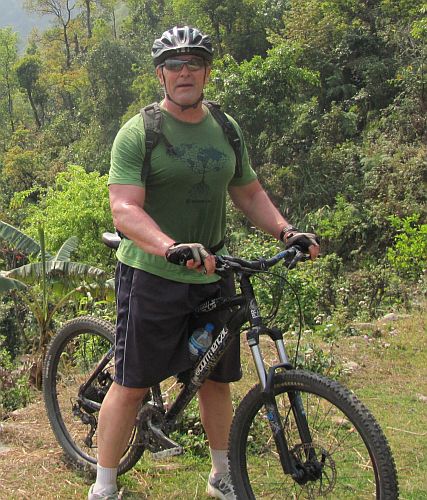 On the days I wasn't doing a micro adventure I was on a scooter for $5 a day cruising around town, getting to the backside where no tourists are and getting off the scooter to walk those neighborhoods and linear street markets. Very interesting. It was really nice and relaxing to sit outside at a Lakeside coffee shop slowly sipping coffee and reading, occasionally setting the Kindle down to watch the rowers on the lake or the break-dancers across the way, or the Tibetan ladies plying their wares.
Where to stay
Pokhara is a resort town and you'll want a hotel off 'Lakeside' street in front of Fewa Lake. You'll find whatever your price range is there. Again, I paid less than $20 for what little I needed and was comfortable and spoiled by the staff. Pokhara has a very different feel to Kathmandu, besides being miniscule in comparison. You'll enjoy one or the other more, of course, depending on your personality. I liked Kathmandu a lot, but next time I'll spend more of my time in Pokhara.
Unlike the street mazes of Kathmandu, Pokhara has one main street of shopping, restaurants and coffee shops, and this is Lakeside, and the street from the first shop to the last probably stretches just over a mile. Pokhara has more of a family atmosphere, and you'll see more families there compared to Kathmandu. The shops in Pokhara are a little more upscale, as are the hotels, restaurants and coffee shops. Down on the lake you can rent small rowboats either on your own or pay someone to row for you. It's a smallish but beautiful lake with its shores full of vegetation and gorgeous scenery.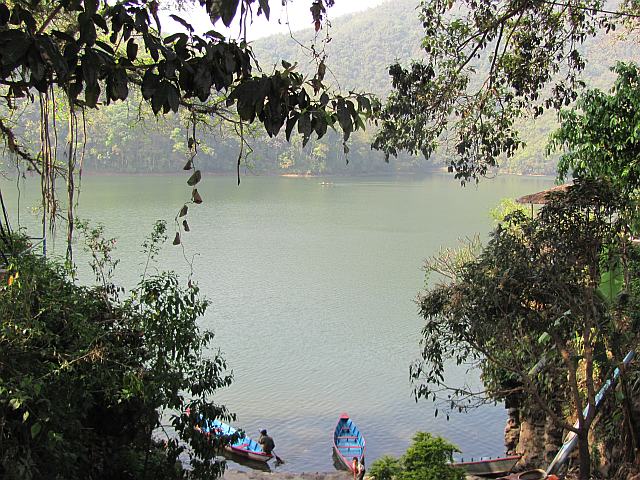 The ever-present beautifully shaped peak of Mount Machhapuchhre at nearly 7,000 metres high is visible from wherever you look. On the Lakeside street central frontal that takes you down to the lake is a wide park-like area where you'll find scooter and bike rentals, break-dancers performing, Tibetan refugee ladies selling their handmade jewellery, couples sitting under trees overlooking the lake, etc. It's a nice spot to hang out and watch the world go by.
Pokhara is quiet and peaceful and without the hundreds of tourists and venders catering to them that you will have in Kathmandu. Both are very cool in their different ways, but Pokhara was the highlight of my Nepal trip. I plan to visit Nepal again for the long Annapurna trek, but Pokhara will be where I hang out when I am done with that. Whatever you choose, you won't be disappointed in Nepal.
Have you taken a great trip during the school holidays? Why not tell us about it and have your story featured here.

an international teacher working in Erbil – a province of Kurdistan, Iraq.