Cambodia is an attractive destination for international teachers, not least because of its low cost of living and relaxed pace of life. Sarah Pycroft teaches at Jay Pritzker Academy, a unique school located in a rural village in Siem Reap province. Here she tells us a bit more about teaching life and what makes this school so special.
My working days begin in the back of a pickup; riding to school through the palm studded paddy fields of rural Cambodia. Most people prefer to ride in the cab, but there's something about the connection I feel to the country, the students, their families and what it means to be a teacher here that expresses itself most strongly bumping around in the back of a truck. Something that reminds me that life is an adventure.
Begin your next adventure by creating a Teacher Horizons profile – (it's FREE). It only takes two minutes to sign up and can give you access to a world of new opportunities!
I couldn't have imagined, back in 2012, whilst finishing my 3rd year at a Teach First school in inner city Leeds, anything other than grey skies, iced up windscreens and congested traffic on my daily commute. Neither could I have imagined moving to South East Asia – a place where I now feel so at home.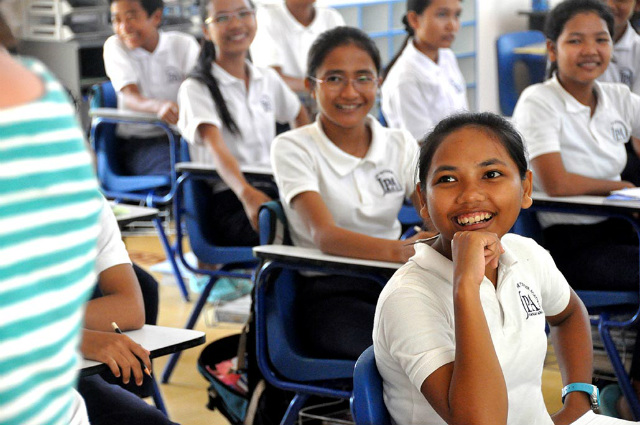 As someone whose entry into teaching was firmly rooted in a desire to help combat educational disadvantage, I'd expected my options for teaching abroad to be slim. Working in an exclusive International School environment didn't appeal, and the small charity schools, unfortunately, seemed by and large to be geared towards unqualified volunteers teaching little more than the ABCs.
To find a school that was both academically rigorous and founded with the vision of providing an International School quality of education to students from economically disadvantaged backgrounds – for free – could not have been more ideal.
Aimed at enabling students to achieve scholarships to study at top international Universities, Jay Pritzker Academy (JPA) is a school with high expectations of students and staff alike, and a strong sense of shared motivation and drive. Not only does it boast a state of the art campus in the middle of the Cambodian countryside, but the attitude and approach of its bright, articulate students could only be described as beyond diligent. A major delight having spent 3 years cajoling and coercing students into completing their GCSE assessments back home!!
Does the prospect of working in Cambodia excite you? Read more about the Kingdom of Wonder to ensure this is the location for you.
It is still a young school, and like all schools in their early stages, there are undeniably challenges. Some come from the fact that the courses and texts taught are designed for native speakers. And, although English is enforced as the only language spoken on campus, having exclusively Cambodian students in the classes (rather than the ethnic melting pot you'd find in regular International Schools) means that errors resulting from the influence of the mother tongue are hard to overcome.
Overwhelmingly, though, the challenges are surmounted by the incredible sense of potential. With the first cohort of students to have studied at JPA right from Kindergarten age moving into the High School next year, it really is an exciting time in the school's growth. And with a small, young and enthusiastic staff body, it is also a brilliant opportunity for passionate, dynamic teachers to help shape and build on the existing curriculum. Innovation is encouraged, and I've found nothing but genuine interest and support from the leadership team for my new ideas.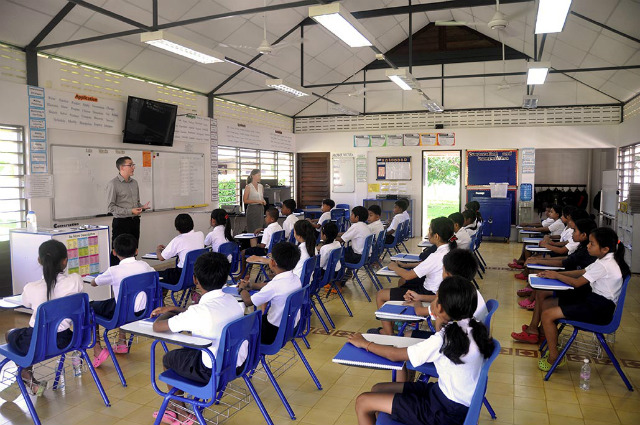 Unlike a lot of expat jobs in Cambodia, the salary affords an exceptional standard of living with the freedom to both save and travel. Siem Reap is a vibrant town, where you can live as 'locally' or 'western style' (involving all the comforts of home) as you like. The expat scene is diverse with thousands of young people from all over the world teaching, running social enterprises and setting up Start-up ventures. This means there is a thriving arts scene with jazz nights, photography exhibitions, film festivals and even a spoken word society! Weekends can be spent with a cocktail by the pool, cycling around the ancient Angkorian temples, or taking motorbike trips to discover lakes and waterfalls.
As I sit in the back of that pick up each morning, I smile that my life has become such an adventure. Occasionally, I think about what I'd be doing if I was still back in the UK, having never made the leap abroad. With the seven hour time difference… I'd probably still have been up the night before, drowning under a pile of marking for those reluctantly completed GCSE assessments!!
Do you teach internationally and would like to share your story? Get in touch to become a guest writer on our blog.

educational consultant, teacher trainer and campaigner for responsible international volunteering; a topic she has blogged about for the Huffington Post. Sarah has worked in a range of educational and non-profit settings across the UK, Cambodia and Nepal. She is currently based in Siem Reap, where she is working at the Jay Pritzker Academy, developing an intensive writing improvement course.