Advisers at Teacher Horizons are often asked about what it is like to teach at an international school in China.
Although we share a range of exciting opportunities, candidates can be concerned about the unique challenges that living and teaching in China may present, especially in the wake of COVID-19. They worry that visas will be difficult to process and that navigating the legal aspects of moving there might be complex and time-consuming. They are anxious about the high expectations placed on students and teachers. They are not sure if the country has opened up for travel. They don't speak Chinese.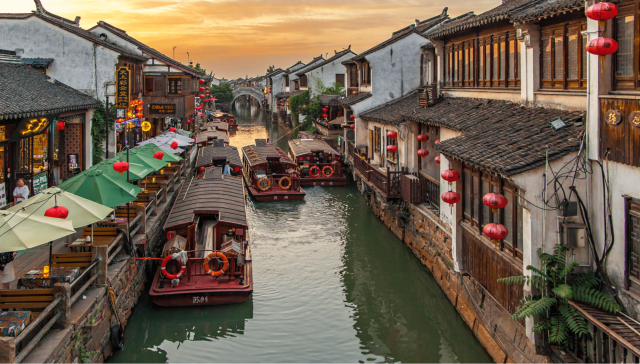 Preparing to apply to international schools in China
It's essential for anyone considering teaching in China to research and prepare thoroughly, including understanding the specific challenges of their location and school. However, many educators find that with the right preparation and mindset, these worries can be overcome, and that teaching at international schools in China can be a fulfilling and enriching experience.
There is no doubt that landing a job at one of the best schools in the world will help ease you into this new and exciting environment, and this is why we are taking a deep-dive into teaching at Dulwich College this month, in the first of our 'School Spotlight' series.
When I was a kid, my parents used to drive me to visit my aunt and uncle in South London. Each time we drove along the South Circular A205 road, three things always stood out to me through the finger-smudged window of the car. The first was an enormous black cat on a building in Catford (which I suppose makes some sort of sense). The next was the clocktower of the Horniman Museum a little further along the road. And the final landmark was Dulwich College: a hugely impressive sight for a six-year-old.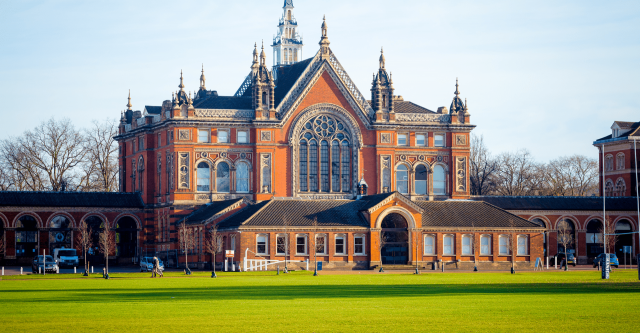 Dulwich College campuses in China
It is clear that the school group known as Dulwich International has not only recreated the majesty of the building in its six campuses in China, but it has also ensured that its academic prestige has followed it there too. The school is renowned for its high educational outcomes, and for providing a wealth of extra-curricular opportunities.
There are six Dulwich campuses in China in all: Dulwich College Suzhou, Dulwich International High School Suzhou, Dulwich College Beijing, Dulwich College Shanghai Pudong, Dulwich College Shanghai Puxi, and Dulwich International High School Zhuhai. All of them use the famous London school as the model for their approach to providing a world-class education to each and every student at their international schools in China. As stated on the Dulwich College UK website, 'the faculty in London provide advice, ongoing support (for example over the recruitment of new staff from the UK) and, importantly, [they] offer a quality assurance role, with annual inspections of all the schools by staff from London'.
Teaching at Dulwich College
So, what is it really like to teach at one of the best international schools in China? We had a chat with Matt Hewitt, a Maths teacher based at Dulwich College Shanghai Puxi. It was incredibly reassuring to hear that the school's priority is the wellbeing of the whole community. Whilst they have high expectations of their students, Matt's experience of how this is managed is very positive, with teachers reporting positively about the demands placed upon them.

Additionally, the school is known within the local community as having dealt with COVID-19 extremely well, and this has helped them to build a very positive reputation in recent years.
He tells us that the salary package is good overall, and includes excellent medical insurance. A housing allowance is provided, and school meals are covered by the school. Travel on public transport is super cheap, and groceries are cheaper. This means that the savings potential for teachers at Dulwich College's campuses is really excellent.
Life for international school teachers in China
So, lots of ticks so far, but how about life outside of school? Matt has now taught in China for four years, and has always found travel to be very easy and comfortable. He tells us that the country has now fully opened up again after the pandemic. It is clear that day-to-day living is straightforward, especially with the use of technology: he advises that teachers should be prepared to embrace the many apps needed in daily life, but that if they are able to, life becomes very convenient.
We asked Matt to share his experiences of joining the Dulwich College faculty. He told us that they have historically recruited heavily from the UK, and therefore there is an easy transition if you are moving from the British system. However, the community at Dulwich College's campuses is becoming more and more diverse. Matt described the community as friendly, positive, and very focused. Although new to the school, he has appreciated the positivity that has surrounded him since he arrived.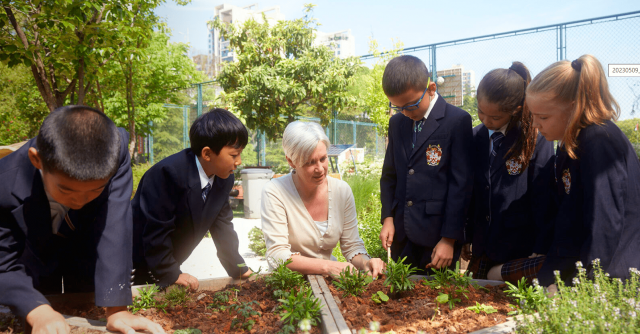 Moving to teach at Dulwich College in China
And what about the visa process? Matt reported that the Dulwich team kept in regular contact with him before he travelled there. They ensured that the visa process went smoothly, and the buddy system they facilitated allowed him to seek support from an experienced Dulwich employee whenever he needed it.
His arrival was fantastic: lots of time was spent off campus getting to know the area, and the group of new teachers were taken to different restaurants to relax and get to know each other.
Final thoughts
Before we said goodbye, Matt shared a few final thoughts. He told us that the teachers who had stayed at international schools in China for ten to fifteen years were prepared to work hard, but also embraced the plethora of incredible travel opportunities. He particularly recommended the high-speed train as a real bonus. He said that it was important that 'expat' teachers attempt to learn Mandarin so that the Chinese people feel that they are trying to integrate into the community, but that if you were up for having a go, they would be delighted.
It seems the chance to save some money isn't the only reason to consider teaching at an international school in China.
If you are considering teaching in China, or if this article made you dream about securing a job at an international school in China, then you're closer to making it a reality than you think. Check out the info on the upcoming Recruitment Fair below.
Save the Date – Dulwich College International Dubai Fair 24th November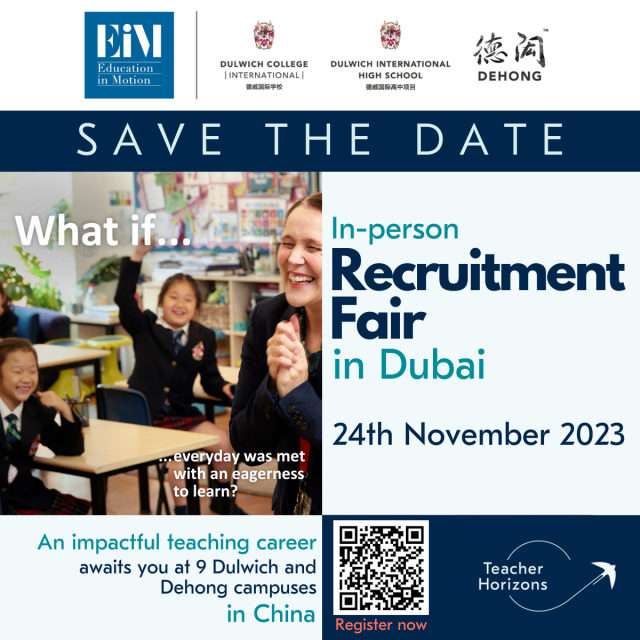 Teacher Horizons is looking forward to hosting an in-person recruitment event for the Dulwich College International schools on November 24th in Dubai. We have placed over 100 teachers and leaders at the Dulwich schools since we started working with the group and have always received excellent feedback about the professional opportunities, packages, and induction that teachers have received when making the move to China. You can read more about working in China here and also click here to register your interest in our upcoming webinar about working at Dulwich schools. If you will not be able to attend the event in Dubai, there might still be an opportunity to interview with one of the schools during the course of the year. Please email your Adviser or info@teacherhorizons.com for more information.

Camilla has been working in education for the past sixteen years, teaching English in the UK, El Salvador, Thailand, and Tanzania. She participated in the Teach First Programme in 2005, and went on to support another Teach First teacher in her efforts to set up The Literacy Pirates, an education charity working to develop the literacy, confidence, and perseverance of young people referred for extra support by their teachers. As their first Director of Learning, she was responsible for planning, leading, and evaluating the learning programmes. She has worked as the Head of Language and Literature in international schools for the past five years, and is now living in Brighton with her husband and two children, attempting to reacclimatise to the weather by cycling around as much as possible and eating lots of ice cream.