This week we hear from Simon Armstrong, an inspiring teacher and entrepreneur who has set up a service for international school trips, called CAS Trips. He explains where the idea for CAS Trips came from, and with his wealth of knowledge, he gives some great advice on how to enhance your experience of travelling with students.
As a former international school teacher, I know exactly what it is like to travel with students. At the tender age of 23, I set sail for my own teacher horizons journey, as I embarked on a teaching career that would take me to international schools in Indonesia, Switzerland, Brazil and Canada before settling in Prague, Czech Republic. During these years, I helped organize and chaperone various school trips – and we all know that job doesn't come lightly. It is more than just responsibility. You need to find that delicate balance between fun, meaningfulness, budget and safety to ensure that students accomplish learning outcomes whilst enjoying a fantastic travel experience yet following the rules and guidelines set forth.
My own experiences in the classroom and my never-ending passion for travel inspired the concept of CAS Trips, a tour company focusing on educational travel with students aged 12 – 18 years. Through the years I have learned many valuable lessons from both sides of the trip planning fence and I thought I'd share some of my wisdom – both from a teacher and tour operator perspective – to make traveling with students a little easier.
Here are my top 5 tips that will enhance both your and your students' experiences when travelling abroad:
1. Have fun!
Yes, you are working and trying to teach your students about the history of World War II or how the Ottoman Empire came about – but you're on a school trip to explore beyond the textbook. Have fun, use local tour guides to bring in a new perspective on topics, and don't forget that your students will absorb the most information when all their senses are fully engaged.
2. Prepare for a new culture
Make sure you research and understand the culture with your students before embarking on your journey abroad. This can be a truly engaging and curriculum-relevant classroom activity. Have previous political regimes left a lasting impact on your destination? What is the historical context of the food you will eat? Are you visiting a country that requires students to cover up more so than they usually do back home? Explore the context of the who's whats when and whys with your students in advance to educate and prepare them in terms of culture and customs at your destination.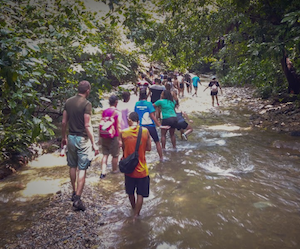 3. Accept accountability
This is always a challenge, but as a teacher you need to accept accountability for the entire trip from the moment students leave their homes until they are picked up by their parents again upon return. You've organized every part of the trip to run smoothly. Practically speaking, that might always not be the case. Whilst the responsibility lies with you, make sure that your students and their parents are aware that they are also going to be held fully accountable for their individual actions and any mischief when travelling abroad.
4. Ask your students what they want
Do things a little differently from the rest. Ask your students what they want, rather than giving them a fully planned itinerary. There might be specific sites or activities they would like to visit and take part in at your destination. Providing options is also a great way to get your student involved before the trip even starts. Would they prefer exploring a castle or participating in a street art workshop? Students that feel like they are actively involved in the decision-making process will result in a more dynamic group eager to learn and explore.
5. Use a student tour operator
I may be biased here, but using a student tour operator can really enhance your educational trip. Working with a student tour operator secures you the best deals and ensures an expert opinion with lots of experience. Tour guides (like our CAS Trips guides) are trained in specific areas, such as history for example, providing your students with knowledge that might not be found in textbooks. Another very clear benefit of using a student tour operator to plan your trip, is that you can sit back and relax a little while the experts handle all those pesky logistics of travel. We at CAS Trips have even created a 7-step checklist on how to book a student trip.
So why did I create CAS Trips?
Well, like many of you, I had been on one too many underwhelming school trips myself – both as a student and as a teacher. From my own travels and extensive knowledge of the International Baccalaureate program, I knew there had to be a better way.
At the IB's core, CAS (Creativity, Activity, Service) is an obligatory extracurricular modular designed to push students out of their comfort zones and bring about character development. In reality though, many schools I worked with struggled to inspire students to make the most of CAS on top of their heavy academic IB timetables.
Then, it hit me. Why not use the power of travel to tackle Global Issues in foreign countries using a framework of Creativity, Activity and Service experiences?
A frantic brainstorm and several hundred emails later, CAS Trips was born in 2013. Five years later, we at CAS Trips now offer dynamic student travel experiences in 10 different cities, across four continents – with more to come in the future! CAS Trips offers an all-inclusive travel experience for students and teachers, from providing transport, accommodation, food, Service Challenges and on-site tours – we handle it all. Our trips are 100% customizable, creating unique itineraries based on your school curriculum and travel preferences.
This year, we have embarked on the mission of incorporating an average of eight UN Sustainable Development Goals (UN SDGs) per destination. Students learn about the UN SDGs through frameworks and tools taught by our trained tour guides, before collaborating with charities and NGOs to tackle the goals head-on with our innovative and dynamic Service Challenges. Reflection workshops and the Changemakers Challenge – a long-term sustainable project that is organized by the students, aiming to make a positive change in the world – are also vital components in the CAS Trips formula.
Through our experience as teachers, students, tour guides and parents, we hope that we truly understand what it means to travel with students. If you are interested in learning more about CAS Trips, please do not hesitate to reach out to me here. I look forward to being in touch and helping you redefine educational travel for your school.
Thanks, Simon! Do get in touch with Simon, and definitely follow CAS Trips on Facebook, Twitter, or YouTube to discover the exciting things they are getting up to, and get inspired.

Simon Armstrong was born in York, UK and grew up in the Northern English Counties of Yorkshire and Lancashire before studying at the University of Liverpool and University of Central Lancashire. Following his graduation, Simon worked as a Sports Journalist at the Press Association but at the age of 23, determined that his future lay in a foreign classroom and succumbed to his desire to teach and travel. Working as an ESL, English Language and Literature teacher and Coordinator, he worked at international schools in Indonesia, Switzerland, Brazil and Canada before settling in Prague, Czech Republic. In the Ancient Czech capital, Simon also discovered tour guiding as a means to satisfy his thirst for history and showmanship on the weekends. This foray into the travel and tourism industry, combined with his extensive knowledge of the International Baccalaureate program led him to establish CAS Trips in 2013. Simon just recently moved to Lisbon, Portugal.