In summer 2015 we launched Teacher Horizons' first blog post competition. The mission: to write a blog post that enlightens and inspires. International teacher James Canvin won the prize of $100 in Amazon vouchers with this fantastic account of his experience in Nepal. Read on to find out more about his time teaching at the edge of the Himalayas.
The only things that sprung to mind when Nepal was first mentioned as a destination were Gurkas, a strange shaped flag and a rather large mountain. Small, landlocked and significantly impoverished, Nepal is historically embroiled in a constant economic tussle between intimidating neighbours China and India.
My journey began when I was thrown into the bustling Kathmandu city with all the bustle, pollution and disregard for traffic laws of a developing country for a crash course in the culture and language of this fiercely independent nation. I came to know the Nepali people as humble and sincerely welcoming as I was greeted time after time with flowers and a generous 'spot' of tika to the forehead. Here I was familiarised with the etiquette of creating a perfect right-hand shovel to eat rice and the basic phrases of "lovely food", "how was your food?" and "more food please" which will get you by in any passing conversation.
I was to be based in Doti, in the Far West province of Nepal. It took 3 days to travel first by bus, then land rover to the secondary school in Kapalleki. This little village clung to the side of what the Nepalis refer to as a 'small hill', to you and me that is a mountain overlooking the spectacular Himalayas. Rather than following the national curriculum, my colleague and I were to be delivering a Sexual and Reproductive Health curriculum designed by the NGO Restless Development.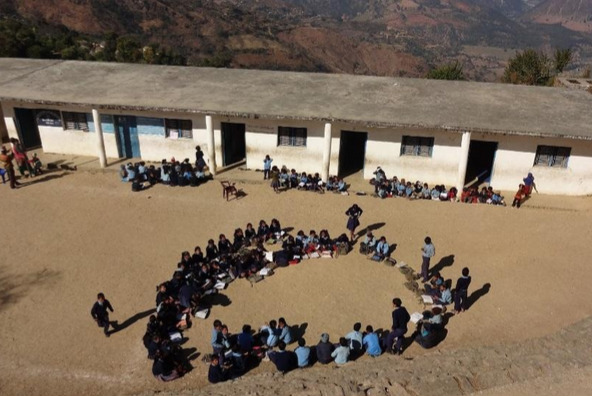 The primary school in Kapalleki is the most extraordinary and spectacular building in the village. With its coliseum-like steps carved into the mountain's edge it looks out onto the Himal and the beautiful scenery of the valley below. Class sizes could be between 20-60 depending on who happened to turn up that day and would often be taken outdoors in the sun if there were more children than could fit into the classroom. Although I would never teach in the primary school their whole school chants of multiplication tables or grammatical rules would often ring around the mountainside.
My experience of teaching was mostly in this small classroom, with the 20 pupils in the village who were being taught in English. I would teach the other classes once a week (I think rather out of their enjoyment of the novelty English teacher rather than for any strategic reason!). Despite the annoyance of persistent pausing and helpful students attempting translation, often resulting in mime, it was highly enjoyable and we did begin to make progress. Although still limited by numerous cultural and linguistic barriers, we soon fell into the swing of things and set to work on our Dental Hygiene project.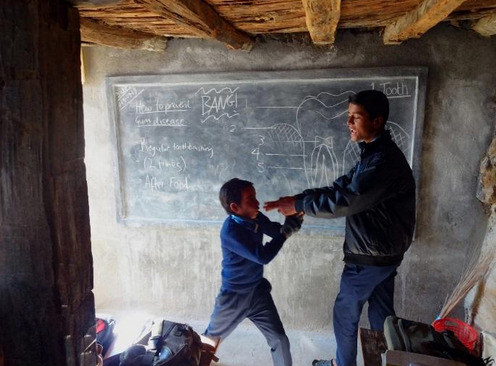 Games and learning are two things never mixed in the Nepali education system and this was probably the single greatest factor in ensuring our lessons were the most popular in school! As in many developing countries the Nepali education system was entirely based around a teacher talking to the class and the expectation that they would copy facts into their book to learn off by heart in time to regurgitate in the exams. When we decided to give them the challenge of creating their own posters in groups our activity was met with blank faces and fear. It took lots of time, space and encouragement before they would embrace working with their classmates, especially across genders, but after time the pride in the posters that they produced was very evident.
Through time we built up on these more kinaesthetic skills to delivering group presentations and eventually individual presentations among our peers. Although we were initially worried that expecting the same of the girls as the boys appeared to be encroaching on the cultural norms established in the school (and often won us the disapproving glances of passing teachers) we were supported by the head master and the girls, after timidly testing the water, stepped up to the challenge. They had never spoken to a class of their peers before and whether by enthusiastic fist pump or a shy smile once definitely returned to the safety of their seats, you could tell they had enjoyed the experience.
The final test for our pupils would be to take everything they had learned in the classroom and disseminate the knowledge around the local community. It was important that this message came from them rather than us. Not only due to the local dialect meaning there would have been 3 sets of language barriers to overcome but also for the pupils to take the lead in affecting change in their own community. They had a fantastic selection of plays, speeches, poems and informative posters which over the course of a week we delivered to numerous hamlets and outposts often more than an hour's hike from our village.
Towards the end of my time in this beautiful village our school celebrated its anniversary in true Nepali style (they sure know how to party!).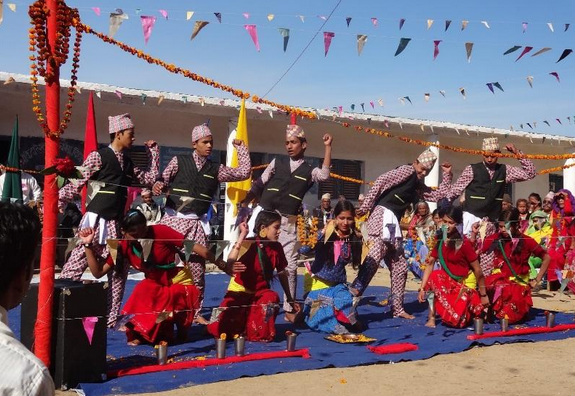 It was incredible to see all the pupils dressed in their finest clothes and dancing to the latest Bollywood music to have made it up the mountain. Although sad to leave, my stories from my time here excite, inspire and engage my pupils in my classroom in Croydon. The intrinsic intrigue of another culture and way of life is an extremely powerful tool and one I am certainly still learning to weave into my own practice. This will not be the end of my teaching abroad, however what a great way to start!

international teacher and winner of the 2015 blog post competition.