Teacherhorizons place number of teachers each month literally all over the world. This week we have connected with dynamic and fun loving Julia Clegg and asked her all sorts of questions about teaching in China.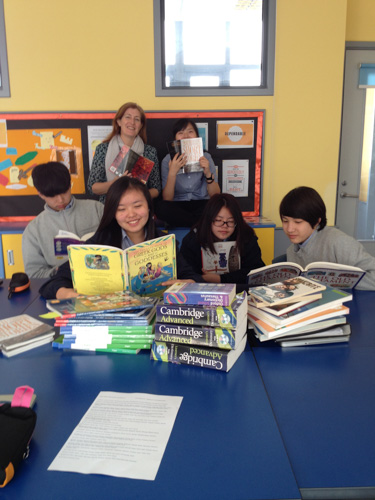 1. Where are you teaching and what's your school like? What made you choose that location/school?
I'm teaching English Language & Literature and IGCSE English as a Second Language in Qingdao. The school is a small but growing school: part of a foundation which has several international schools in China and even one in the US! I really wanted to live and work in China as a cultural experience. I chose the seaside town of Qingdao because I thought it would be a more family friendly experience than the big cities.
2. How did you get your job? What was the process like?
The process of getting the job was pretty straightforward. I was guided by Alex; because he knew my employment history (Teacher Horizons referred me for my previous job in Indonesia), my strengths and the type of position I wanted, he was able to recommend me to the school for the position. He was spot on – it does suit me!
3. What is the city like? Is there an active expat scene? What do you do in your free time?
The city is small by Chinese standards but large in comparison to British cities with over eight million inhabitants. Fortunately, we live outside the city and very near the school. There is not a large expat scene but the school organizes quite a few events and teachers arrange their own get-togethers.
4. Which tourist sites or must-visit places are nearby?
Qingdao is a tourist town for the Chinese so there are lots of things to do in the summer. The beaches, of course, can be lovely albeit a little crowded. Qingdao is famous for sailing and nearby LaoShan is great for hiking. It was a German settlement once upon a time so the city's architecture is interesting and of course the Germans introduced the idea of beer to the people of Shandong. Tsingdao beer is brewed here and there's an annual beer festival.
Shanghai and Beijing are easily accessible by fast train or plane from Qingdao and are must-sees whilst in China. We are going to Xian to see the famous terracotta army during our next holidays.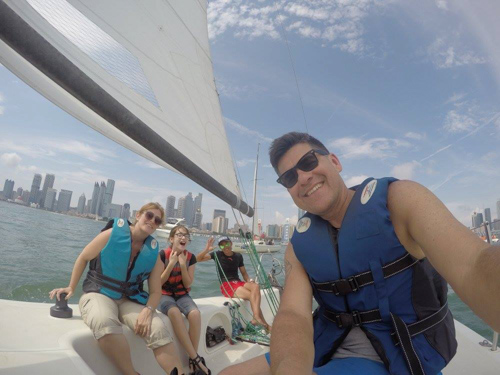 5. What is the climate like? Is there any extreme weather? If so, how do you deal with it?
The climate is hot in summer and cold in winter. I like the hot weather and am happy to chill out by the bay. Winter is a little more challenging. Fortunately, the apartment is always snug and warm; the heating is controlled by the council. We go somewhere hot for the Christmas holidays. However, if you like skiing there is a small resort a couple of hours away. Although the winter is much colder than the UK, strangely it is more manageable because it's not wet. We wrap up warm but leave the umbrella at home!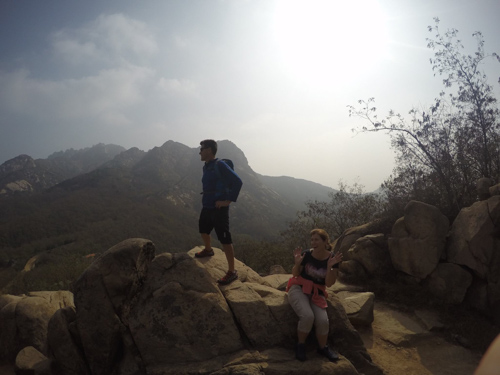 6. What is the food like? Is international food available? Have you tried any unusual local dishes?
Most of the food is traditional Chinese, but some international food is available. There are the usual McDonalds and Starbucks but also a few independents. There are many British foods I can't buy in the shops here like jelly, gravy granules and custard powder but I can get them online! Cereals are very expensive so breakfasts are a little different now. Of course, the local Tsingdao beer is available anywhere and everywhere!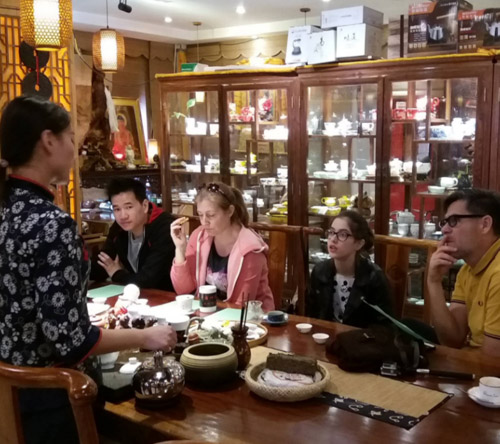 7. How is the culture different from your home culture? Have you experienced any culture shock?
The culture in very different in China but that's what makes it interesting! School holidays are at different time than the UK and most other international schools which makes term times very long or very short – this takes some getting used to. There is no queuing here so getting on a bus is always a challenge. The language is incredibly difficult to learn – even for people like me who speak more than one language – so communicating with the locals is not easy.
8. What's the cost of living like? Are you able to save money?
Qingdao is relatively inexpensive when compared to cities like Shanghai and Beijing so it's possible to save quite a bit. Public transport is very cheap so we don't have the expense of running a car.
9. What's the best thing about living and teaching in your chosen city? What have been your highlights so far?
Qingdao is great for young families as there are plenty of outdoor activities in this seaside town – biking, hiking and barbecues on the beach are the highlights so far. As far as teaching is concerned, the students are great. They are generally keen to learn and not as reserved as I thought they were going to be – if fact they're pretty lively!
10. Are there any drawbacks? What kind of person would not be suited to this location?
The most difficult things about living in China – not just Qingdao – are media isolation and air pollution. Internet connections are unreliable and many sites are inaccessible even with a VPN. This means there can be problems keeping in touch with the outside world. However, within China 'Wechat' is brilliant! It's not a good place if you're addicted to surfing the world-wide-web or suffer from allergies!
11. What advice would you give to someone who was thinking of coming to live and work in your current location?
Get a VPN before coming to China, learn some basic Chinese and bring an open mind.
To find out what location would suit you and your family best for your next teaching stint abroad, contact the friendly team at Teacherhorizons and discuss your options with them. It could be you yachting and hiking in your dream destination soon!