As you may know, our main hub here at Teacher Horizons is in the beautiful city of Siem Reap, Cambodia. It is there I have spent the last 6 months enjoying the culture, climate and cuisine. We work with many schools in Cambodia, such as JPA who we mentioned recently in our blog The best international schools to teach at in the world. You can find out more about Cambodia and its opportunities via our Cambodia page, but I want to share my personal experience of this incredible country too. It was tough to choose just 10 great things about such a fantastic place but I gave it a go. So in no particular order…
1) Learning Khmer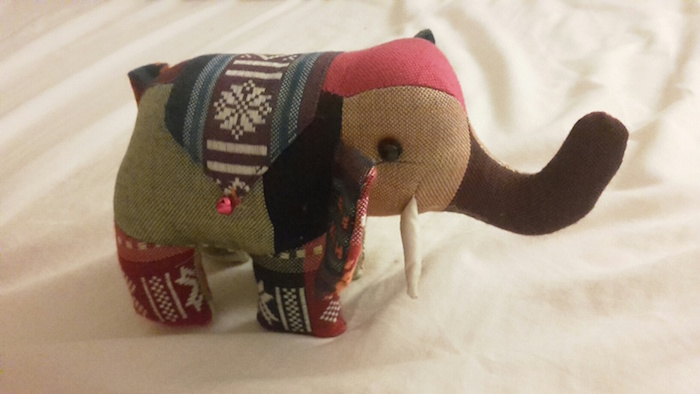 One of my reasons for moving abroad was to learn a new language and I was keen to end up some place where English is not widely spoken. Little did I know that many of the locals in Cambodia speak fantastic English and I wouldn't need much Khmer to get by. But I tried anyway. My first experience of learning it came from a local man called Hi, who just started talking to me in a restaurant one day and taught me all the basics whilst I ate fried rice. He then told me about his family and showed me photos of them. I loved speaking Khmer. The language isn't that hard when you get used to the different sounds and inflections, and the respect you get from locals when you use it is priceless. By the end of 6 months there I could pick words out of conversations and make attempts to get involved. In fact I once understood a man at the market asking his wife how much to charge me for a toy elephant. She replied "bei dollar" ($3), and he turned around to me and tried "nine dollars please". Needless to say, I got it for 4!
2) The countryside
The countryside in Cambodia is unlike anywhere else, and in Siem Reap you only need to get on your bike and ride for 10 minutes before you reach dusty red roads surrounded by lush green rice paddies and palm trees. You can see for miles too, because of the flat landscape, which makes it even more stunning. I went on countless bike rides to enjoy this, one of which resulted in having to walk the bikes through bushes and ditches, only to end up at the Ton Le Sap river with no crossing for miles. Luckily a nice fisherman charged us a dollar, shoved our 7 bikes on his boat and trundled us across. Another time I decided to take the scenic route back from Kulen Mountain on the back of a friend's dirt bike. That was a bumpy and skiddy experience that I won't forget in a hurry – but was worth it when we stopped at lakes, climbed mini hills to look out over the paddies, and got lost in countless traditional villages.
3) The people

We have already written a lovely blog piece about the smiling people of Cambodia, so I don't feel like I need to repeat this too much. Have a read here. They are the most genuine and humbling people I have ever met, and I made many friends there who had a real impact on me. As a nation, they have been through a terrible time and have come out the other side better people than many of us could ever wish to be!
4) Sweet coffee
In any local Khmer restaurant, you can request a 'coffee with sweet milk', which is an exceptionally strong iced coffee that has normally been slow dripped overnight, with condensed milk. It acts like rocket fuel. I actually had to cut down half way through my time there when Teacher Horizons candidates were struggling to catch my 100mph interview questions. It didn't seem to affect the Cambodian tuk tuk drivers though, who would sit at these little cafes through much of the day drinking the rocket fuel, playing Khmer chess and then napping in a hammock which they had strung up in their tuk tuk.
5) The villages
I had a few chances to get out into the rural villages of Cambodia during my time there. One was whilst working with Trailblazer Foundation which is a charity who support struggling communities in the areas of health, food security, education, and economic development. I helped to install wells and water filters in the villages surrounding Siem Reap, which was a fantastic experience. I was also able to see local villages during my many cycles around the temple ruins or on the way to one of the barays for swimming and barbecued frog. I loved the villages, there is a real sense of community there. When you cycle through you see all the children playing together in the rivers or the fields, or just lounging in the shade under their houses, which are normally self-built on stilts for that purpose. They would run after your bike practising their English: "Hello, hello, how are you? What is your name? Hello!" This would happen every time you pass a bunch of children. I never had my hands on the handlebars – always just waving and waving.
6) The food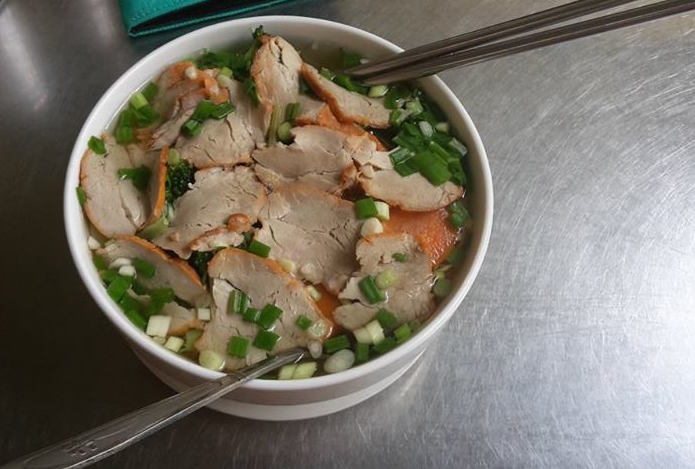 Local food in Cambodia is delicious. It is not spicy but they will always give you fresh chillies or a home made chilli and garlic sauce to spice things up if you want it. They have the fried rice and the noodle soup of other South East Asian countries but they also have their own dishes such as sour soup, lok lak (beef in a peppery soy sauce with rice), amok curry (fish based curry with coconut, turmeric, lemongrass and kaffir lime steamed in banana leaves). I actually was a bit of a traitor when I was there – I ate Vietnamese pho more than anything else, since we befriended a lovely lady in the Vietnamese area of town who charged $2.00 for a huge bowl which had pork, noodles and vegetables in it (find her on facebook here). My favourite breakfast was spicy fried pork and rice, served with a little bowl of soup and pickled vegetables. Delicious!
7) The roads
Now this was a love and a hate of mine in Cambodia. The best analogy to use to describe the roads in Siem Reap is the UK hazard perception test – a virtual prerequisite for the practical driving test, where you have to spot potential hazards and click on them. Eg. That car could pull out of the side road, *click* that child could run out *click*, that car could try to overtake on the blind corner *click*. In Cambodia though, every hazard happens. It's not a hazard, it's a given! Driving there is like playing a real life version of Mario Kart but with motorbikes and tuk tuks instead of go karts. Motorbikes hold up to 6 people; maybe 2 babies, a small child, a man, a woman and grandma. A tuk tuk holds up to 10, with people literally piled in the back and maybe a few straddling the joint between motorbike and trailer. I think the law is to drive on the right over there, but I was never quite certain in all honesty. One way systems are a free for all, and don't even get me started on how the traffic lights work! It's a definite experience, but be prepared to have some shady moments!
8) The festivals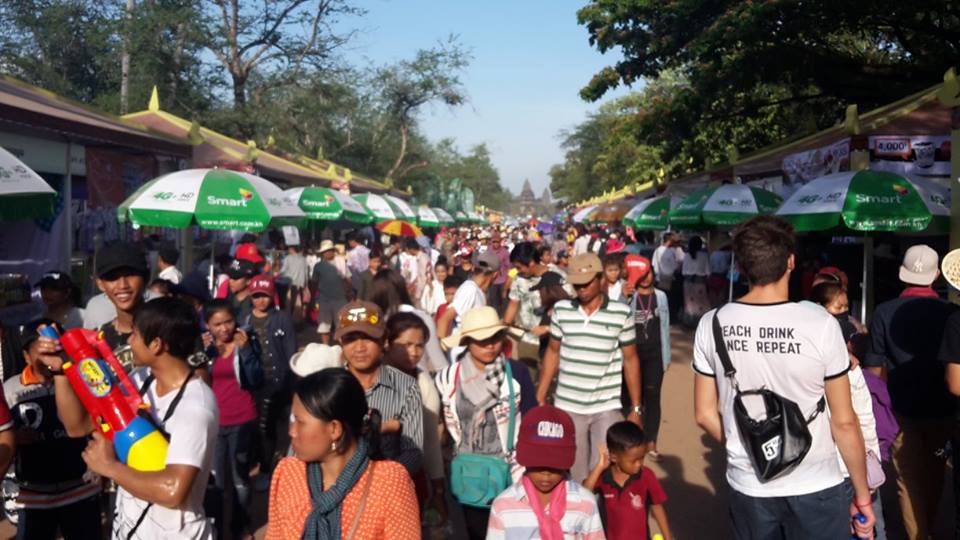 Khmers are always celebrating something. One day decorations are going up, and the next day the entire city will be one big party. My favourite festival was, of course, Khmer New Year (Chaul Chnam Thmey) which is held in April at the traditional Lunar New Year, and celebrates the end of the harvesting season, when farmers enjoy the fruits of their labor before the rainy season begins. I was well warned about the traditions of Khmer New Year through the stories and experiences of other expats, as well as the Khmer staff at the TH office (meet the team here!). However, I still don't think I was prepared as we donned our waterproofs and pistols on the first night and entered the centre of the city. There was not a dry spot in sight. Every man woman and child had a water pistol and was squirting anyone they could see. On top of that, there was baby powder (often scented!) being thrown around. You can see plumes and clouds surrounding the streets and it sort of forms a slimy scented paste on your skin as you join in the celebrations. Every shop has a water station to refill pistols, and it genuinely feels like the whole city has regressed to childhood and is having the world's most epic waterfight. Oh and it lasts 3 days. No joke, I was still being squirted on the street as I rode to work days later.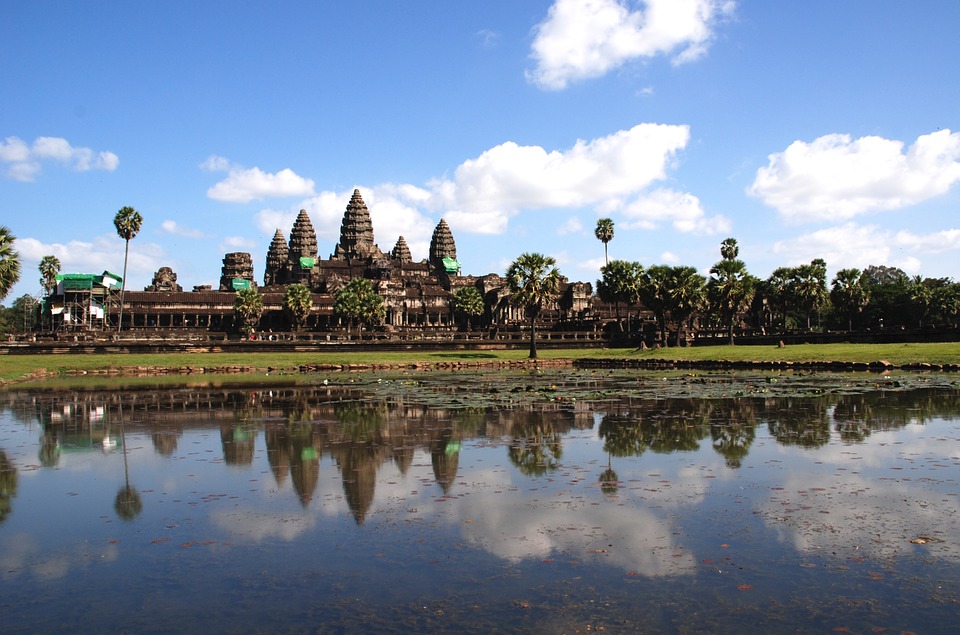 Not only is the centre the place to be at New Year, but the temples open up and are free for all. Locals and their families enjoy picnics and a fair around the outside of Angkor Wat. There's shopping, dancing, music, food, and traditional games. My favourite games to watch were Leak Konsaeng, which involves chasing someone around a circle whipping them with a scarf, and Veay Ka Orm, where they take turns to bash a suspended terracotta pot with a bamboo stick until it breaks and scatters sweets and talcum powder over the winners head. Alongside the games, the water fight continues. I braved the temples on the back of a motorbike and whilst my friend drove, I fought the battle. This time there were trucks crammed with Cambodians who were armed with buckets, guns and water bombs. We even got squirted with a pressure washer at one point! I've never enjoyed being part of a festival so much before. The locals especially appreciated us joining in, we know this because they would point, smile, wave, then promptly soak us.
9) Beauty treatments

I had barely ever had a massage or had my nails done before I got to Cambodia. In the UK you pay a minimum of £50 for an hour massage and £25 for a manicure, and it's a luxury I never felt I could justify. Cambodia (and much of Asia) on the other hand… I would spend $10 for shellac gel nails, and could go in with any picture of any design and have it done. Hello Christmas nails with snowdrops and Santas! I also had many massages, some of which were fairly normal, others which weren't. When a friend came to visit we decided a four hand massage was an experience we should try. It was wonderful! Another time I got a Khmer massage for free when I bought a day pass to a posh hotel swimming pool. I was led through to a room full of beds and beckoned to change my clothes into some crazy looking grey outfit, which I couldn't work out how to put on. I was looking so confused that the woman actually dressed me which was an awkward start. Then she started the massage which began like normal – on your front with face in a hole – and turned into what I can only describe as enjoyable torture. She was pulling me in all directions and actually hitting me. She had me in positions I didn't know I could get into, and was leaping around the bed like a maniac, twisting my limbs in hers and then yanking them. All this was happening to a soundtrack of intense power ballads like 'my heart will go on' and 'I will always love you', along with the sounds of slapping and grunting coming from neighbouring beds behind screens. I feel strongly that the Khmer massage is an experience everyone should have, but be warned – it is anything but soothing and relaxing!!
10) Not feeling like a tourist
The sheer sincerity of the people of Cambodia, and the later introduction of tourism means that they welcome holidaymakers and expats with open arms, grateful for the trade we bring to their cities, but not abusing it as in other parts of South East Asia. I noticed this as soon as I touched down for the first time in Siem Reap International Airport, and there was a desk to go to for information about transfers to the city. The prices for a tuk tuk, a moto or a taxi were clearly laid out, and after living in Cambodia for 6 months I can confirm they are perfectly reasonable too. When I landed in Bangkok I was offered ten different prices to the city, with tourists and forums warning 'don't use the meter, it's often rigged' or 'make sure you use the meter, else you'll be scammed', I didn't know what to think! This genuineness of Cambodia was to continue for my entire stay. Whilst they hoik up prices in the centre like 'pub street', and you will haggle hard for your tourist tat in the markets, you won't find any aggressive or pushy sellers, and if you step outside the tourist centre, in any shop, restaurant or market stall you will be charged like a local, especially if you speak a bit of Khmer! I never felt short changed and I never felt taken advantage of in Cambodia, and that was an authenticity I hadn't anticipated from such a newly developing country. It's things like this that made my love for the place grow stronger every day I was there.
I could go on forever about my love for Cambodia, but it's time to wrap up! I hope that this post inspires you to give Cambodia a try, or heightens your excitement if you are lucky enough to be heading out there in August. Have a look at some last minute opportunities by heading to our Cambodia page. To apply you must sign up here. The country absolutely blew me away, and I don't doubt it will do the same for you.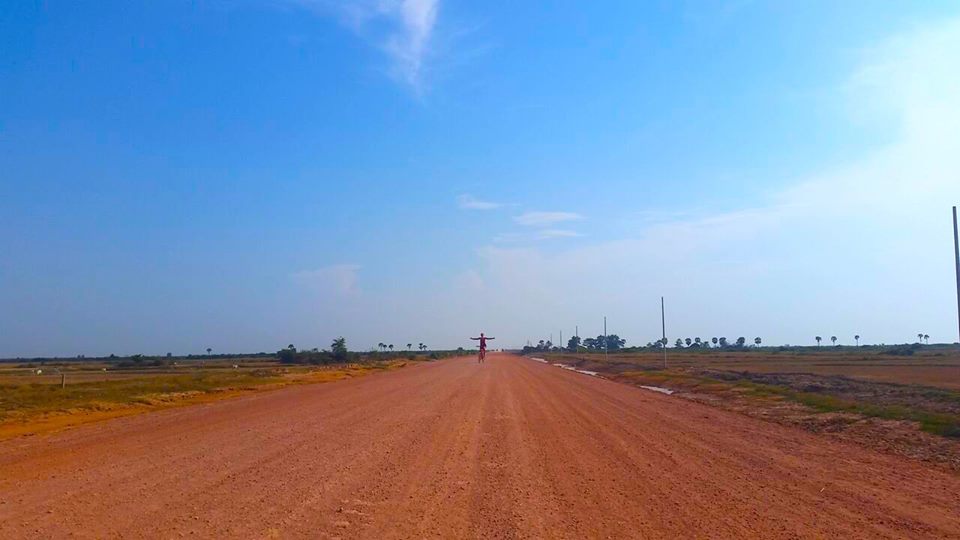 Teacher Horizons Blog Manager and Recruitment Adviser.