I've always been bad at making decisions. What do I want for tea? What shall we watch at the cinema? Which subjects should I take at college? So when my boyfriend and I were offered a job teaching in the Seychelles I was in a panic. Don't get me wrong, it wasn't a complete shock (despite how this sounds we did apply for the posts), I just didn't expect for it to actually happen.
Jodie Bamforth is a Teach First graduate and English Teacher and SENco at Vijay International School, Praslin.

At the time, I'd been teaching English for two years with the Teach First scheme at an inner city school in Sheffield. Anyone who knows Teach First knows it really puts you through your paces both emotionally and mentally. There are incredible highs and shattering lows and no-one can really prepare you fully for this. Prior to this I worked abroad in China for a year as part of the British Council's EAL scheme. So, yes – the decision was hard, but not because of living away or immersing myself in something different.
It was hard because, aside from leaving behind friends and family, I was scared about my career. Somewhere along the production line of school, university, travel, job and promotion, I'd got a bit stuck. Working in Sheffield was tough but after two years I felt settled and happy to stay. I was highly involved with EAL in my school, loved my department and had finally been accepted by the kids. In my NQT year I had been offered a TLR as Leading Practitioner in English and hoped that if I stayed I may be offered further promotions in the near future. Everything was 'OK', so the thought of choosing to leave wasn't easy.
Indeed, colleagues at my school told stories of people throwing CVs in the bin if they were from teachers working abroad and said I'd at least make life easier for myself if I had leadership experience before I left. Thus, I felt that ultimately, if I moved school, I would have to start from scratch and I would be dashing my hopes of progression. The idea of teaching somewhere else posed lots of questions and fears:
What about professional development?
What about challenge in a school which wasn't labelled 'tough'?
Would we still be involved in exciting new projects and remain current?
My boyfriend and I batted these questions about and more, but finally we made the decision to act against all the advice, dive in at the deep end and take the job. All the while clinging to the idea of being able to spend more quality time together and, admittedly, get better tans!
We arrived in the Seychelles in August last year and came immediately to Praslin where we now live and work. Praslin is the second largest of the islands and home to the stunning Anse Lazio which usually ranks amongst the top three most beautiful beaches in the world. As well as being home to the infamous co-co de mer nut, which as my best friend was very keen to point out, is illegal to carry two of at any one time.
My first term was a bit of a blur – getting used to new classes, different students and adopting the role of SENco in a school which had never had one before. As well as teaching a year 7 and year 10 class, I took on the teaching of literacy to a high ability mixed year 4/5 group. Working across sections was something I'd never done before and though it pushed me outside of my comfort zone a little, it has been great for my professional development and confidence as a teacher of English. Fear number one abolished.
"It is good to have an end to journey toward; but it is the journey that matters, in the end." (Ernest Hemingway)
Teaching abroad has also meant a different syllabus; iGCSE. As part of the English Literature requirement I studied 'The Tempest' with year 10 and was lucky enough to work with some of the students in the second term and direct the secondary performance of the play. It was exhausting and challenging but by far one of the most rewarding things I have done in my teaching career. Subsequently seeing my year 4/5 group whoop with joy when I announced we were going to do a Shakespeare unit was the icing on the cake. Fear number two destroyed.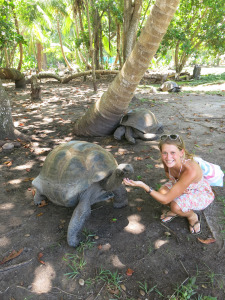 And fear number three? This term, two of the students I teach fought off international competition by winning a LendMeYourLiteracy competition entitled 'Dreams of Hope for the Future'. Being involved with such a wonderful website has opened real doors in our school and boosted the confidence of several of our students.
Despite the sun and sand, living and teaching in the Seychelles is not always easy. Life is sometimes slow and there's not the access to large supermarkets, cinemas and pubs which we took for granted in the UK. But the pace of life has meant that we've started to enjoy things which before we didn't have time for. I've started painting and writing and my boyfriend dives regularly, running a coral restoration project with students at the school. We also socialise differently. BBQ's, poker nights and late night picnics on deserted beaches have meant that we've become really close to the people that live here and definitely far less materialistic.
So what have I learnt?
Some decisions are easy – like whether or not you want ketchup with your fries, the author you want to read or the people you want to be with. And some, like the job you want to do and where you want to live, are monumentally harder. But every so often, a decision comes along and leads you by the hand. You realise it's nothing to be scared of; that it might be taking you on a different journey to the one you expected – one with less books to mark and, coincidently, a beach at the end of the road – but that you can still achieve those goals you seek.
Because it is the journey, and the people you chose to journey with, that matter in the end.
Sound exciting? Browse our schools in the Seychelles and the rest of Africa. Alternatively, browse our related posts about Africa. Where do you want to go next?

Teach First graduate and English Teacher and SENco at Vijay International School, Praslin. Follow Jodie on
Twitter
.