Yew Chung Education Foundation is one of our leading groups of schools. Every Yew Chung school has the same unique model, where it brings together the East and the West and implements a bilingual and co-cultural programme through a Co-Principal and Co-Teaching system. As this amazing group of schools continues its recruitment drive, we find out some inside information from Megan Banerjee who has been teaching at Yew Chung International School, Beijing since September 2016.
Where are you teaching and what's your school like? What made you choose that location/school?
I am teaching at Yew Chung International School Beijing. I was interested in staying in China having been at Canadian International School Kunshan before, and Yew Chung has a reputation for academic excellence as well as a reputation for looking after their teachers.
How did you get your job? What was the process like?
I started the process in the spring time. Maggie from Teacherhorizons was great. She was in constant contact with me and gave me advice to help me in the job hunt. It was a lot of work organising my materials, but it was worth it. I was not matched with a school right away, but as the hiring season went on, I got an email through Teacherhorizons about a job opening. I immediately sent out an email, and within the week, had an interview and was told I got the job. A big thank you to Maggie and Teacherhorizons!
My advice would be to start early, around November. It's when most schools begin to know of vacancies they have. The job hunt is a waiting game. Teacherhorizons has a great staff, who are always looking out for you. You won't be disappointed.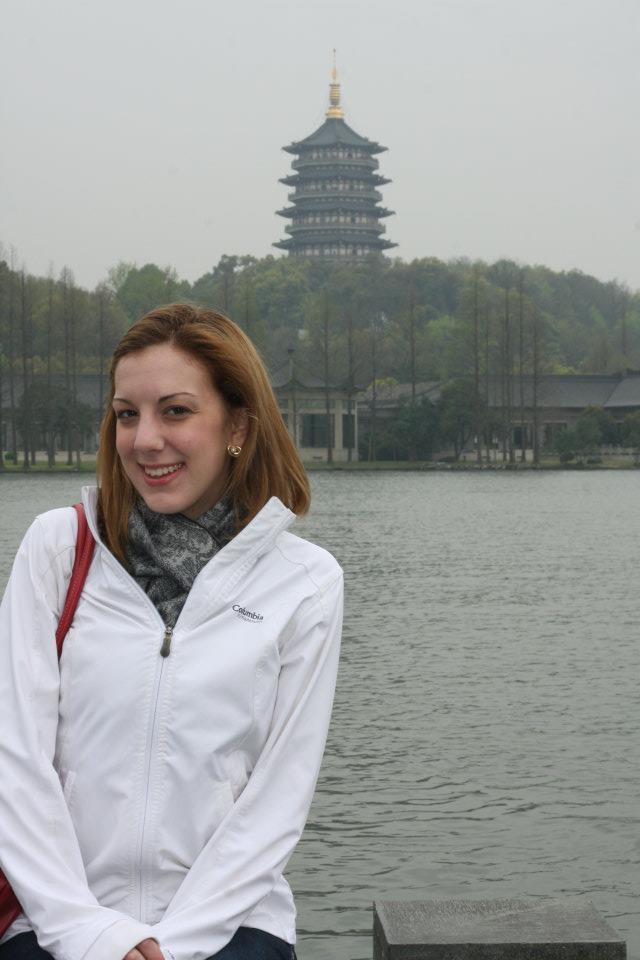 What is the city like? Is there an active expat scene? What do you do in your free time?
Beijing is an amazing city. It is bustling with expatriates, and because of that, foreign restaurants and groceries are everywhere. At my school, we have many teachers who have stayed with the school for over 10 years. This speaks volumes about the school management and Beijing itself.
In my free time, we enjoy riding our electronic bike around the city and seeing life in China. We often find unexpected treasures along the way. I also have to admit, I'm a shopaholic. I love spending my time visiting local markets and tailors to see the interesting things that are sold.
Which tourist sites or must-visit places are nearby?
I live in Chaoyang district, and that means everything is in your backyard. We've visited scenic areas of Beijing like Fragrant Hills, the Great Wall, Tiananmen Square, and the Llama Temple. We also enjoy shopping, eating and getting clothing tailored. Some great places to see are the Silk Market, Sanlitun, and Hongqiao Pearl Market. (Just remember to put yourself on a budget before you go!!)
What is the climate like? Is there any extreme weather? If so, how do you deal with it?
There is a saying that long-term expats of Beijing often tell newbies, "There is only one month of Summer." Since we are usually only here for the school year, we only get a brief glimpse of summer weather before it gets cold. So far this year, it hasn't been too bad, but I suggest getting thermal inner-wear and a nice winter jacket. If you do forget to pack winter essentials, you can visit a nearby shop and buy what you need.
The northern part of Beijing has central heating. You can walk around in socks during the middle of winter, in the apartment of course. I find that Beijing feels much warmer than the Southern part of China because of this.
What is the food like? Is international food available? Have you tried any unusual local dishes?
I think the food is very tasty. We enjoy Chinese food and there are plenty of options available for us. However, for our friends who long for Western food, there are great restaurants nearby. With Beijing being a major capital city it has many restaurants to appeal to its international audience.
How is the culture different from your home culture? Have you experienced any culture shock?
I have been in China 5 years already, so Beijing feels more like home than home. I think China can be a big change for someone who has not travelled before, however, Beijing is very Western friendly.
What's the cost of living like? Are you able to save money?
Saving money is all up to how you budget yourself. You can save a lot of money, even with a more extravagant lifestyle, than you might in your Western country of origin. My husband and I love cooking, so most of our dinners are at our home. Eating out is our most expensive pastime. Excursions and travel also cost a little bit, but they do not have to be expensive. We save a considerable amount of money by creating strict budget goals and meeting them.
What's the best thing about living and teaching in your chosen city? What have been your highlights so far?
I have really enjoyed interacting and learning from educators from around the world. I wanted to be involved in a school that followed the British curriculum. I have enjoyed learning more about the differences and similarities about teaching styles, curriculum and assessments.
Are there any drawbacks? What kind of person would not be suited to this location?
Everyone who leaves home or their previous placement deals with "homesickness." You are not unique in feeling this way. You need to be able to go out and make friends, keep a positive attitude, laugh often, and explore. Don't restrict yourself to the school and your apartment. Be a risk-taker!
What advice would you give to someone who was thinking of coming to live and work in your current location?
Bring warm winter clothes, be open-minded and excited to learn about a new culture, make friends, go out, explore, and make your apartment a "home." Be sure to try new things, don't get bogged down in work, and stay positive. Oh… and get massages!!
Another happy teacher, Julia Clegg, has taught in Qingdao; read her story. To find out more about international schools and general advice on China, read a blog written by our very own, Alexis Toye.